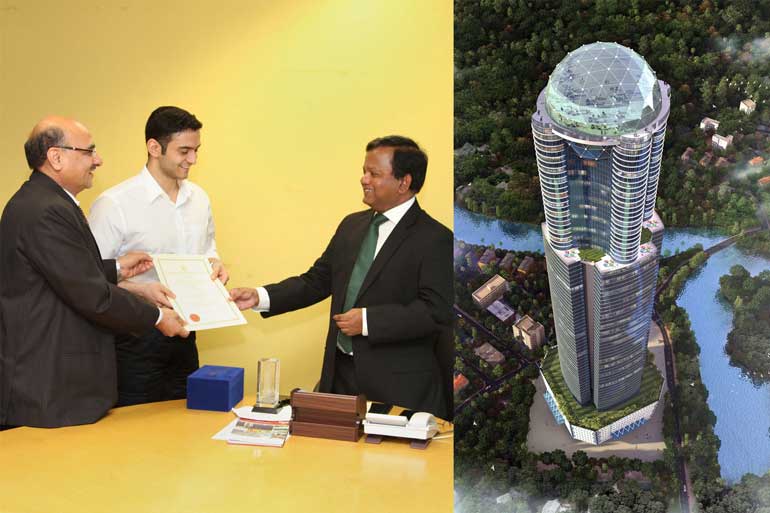 Shreepati Edifice Director Rakesh Chandra Pandey formally receives the BOI agreement from BOI Chairman Upul Jayasuriya
​The 3D image of the 1996 Iconic Tower
One of India's biggest real estate development groups, Shreepati Edifice Ltd. has signed an agreement with the Board of Investment of Sri Lanka to invest $ 330 million to construct a mixed development hybrid project, the 1996 Iconic Tower.

This magnificent high-rise iconic tower will be the landmark and the tallest building in the country. The tower will comprise ground plus 96 floors with an approximate height of 363 metres with 376 residential apartments, 92 penthouses and modern amenities like entertainment desk, business centre, swimming pool, gymnasium, spa, outdoor yoga and sky decks.It is anticipated that the tower will be completed within 48 months.



The structure of the building is tubular and is a tribute to the Sri Lankan Cricket Team, which won the World Cup in 1996.

BOI ChairmanUpul Jayasuriyasigned the agreement on behalf of the Board of Investment of Sri Lanka and Directors Rakesh Chandra Pandey and RajanSirivastav signed on behalf of the ShreepatiGroup.

This state-of-the-art iconic tower will be constructed on a two-acre land at Rajagiriya which has been leased out to Wills Relators Ltd. by the Urban Development Authority.