Linking education to enterprise, key to developing knowledge-based economy
Overall ADB lending to hit 2 b in 3 years
175,000 rural homes to be electrified, including NE
Mahaweli projects to transfer water from wet to dry zones
ADB pledges to support national priorities on SDGs
Offers 'knowledge-sharing' between ADB member countries
By Shiran Illanperuma

In order to support the Yahapalanaya Government's aim to gradually raise expenditure on education to 6% of the nation's GDP, Asian Development Bank Vice President Wenchai Zheng said yesterday that lending on education would be tripled to target $ 1 b over the next five years.

Educational development will focus on secondary and tertiary education with an emphasis on enhancing research and development in the island's academic institutions. "We need to link education with enterprise so that this country can diversify and move towards a knowledge-based economy," said Zhang.

In his third official trip to the island as President of the ADB, Zhang held meetings with top officials in the new regime, including the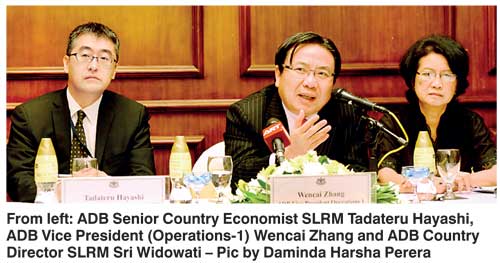 Prime Minister and Minister of Finance, to discuss development priorities and possible areas for cooperation for the next few years.

Overall lending to Sri Lanka under the new regime is expected to reach $ 2 b over the next three years.

Zhang said that despite discussions there were "no formal requests" for loans from the new Government. "We will have to wait for a few months or a year until this new Government's policies and development goals are finalised, after that we are willing to loan any amount based on project readiness," he said.

Discussions between Zhang and Government officials covered traditional investments such as highways, water supply and sanitation, irrigation and energy. Of particular interest to both parties was investment in railways to enhance interconnectivity and trade within the island, particularly with the Port City.

"We haven't finalised any details yet but ADB has always supported transport and this railway project is a possibility we want to explore," said Zhang.

In addition to education and railways, development initiatives will prioritise rural areas, particularly those underdeveloped by war in the north and east of the island. A rural electrification project is poised to energise over 17,500 rural homes, including those in the north and east. Ongoing water projects in Mahaweli will help redirect water from the south to the north for agricultural, industrial and drinking purposes.

Speaking on the Government's recognition of the Sustainable Development Goals at the UN General Assembly in Geneva, Zhang said that the Sri Lanka had performed admirably in its efforts to achieve the Millennium Development goals and that the ADB would provide support in future endeavours.

"The Sustainable Development Goals are more ambitious and with only 15 years to achieve them, we will do our best to support Sri Lanka," he asserted.

Zhang said that the ADB was committed to the ideology behind the Sustainable Development Goals and was eager to increase spending to mitigate climate change in particular. As for enabling change for its member states, Zhang said: "Some of our states excel in certain areas and we can provide the context for states to share information on what policies are effective for sustainability."

Since its inception in Manila in 1966, the ADB has worked closely with the government of Sri Lanka, approving a total of 192 loans with cumulative lending amounting to about $ 6.9 b. This is in addition to around $ 358 m in grant assistance and $ 127.78 m in technical assistance projects.