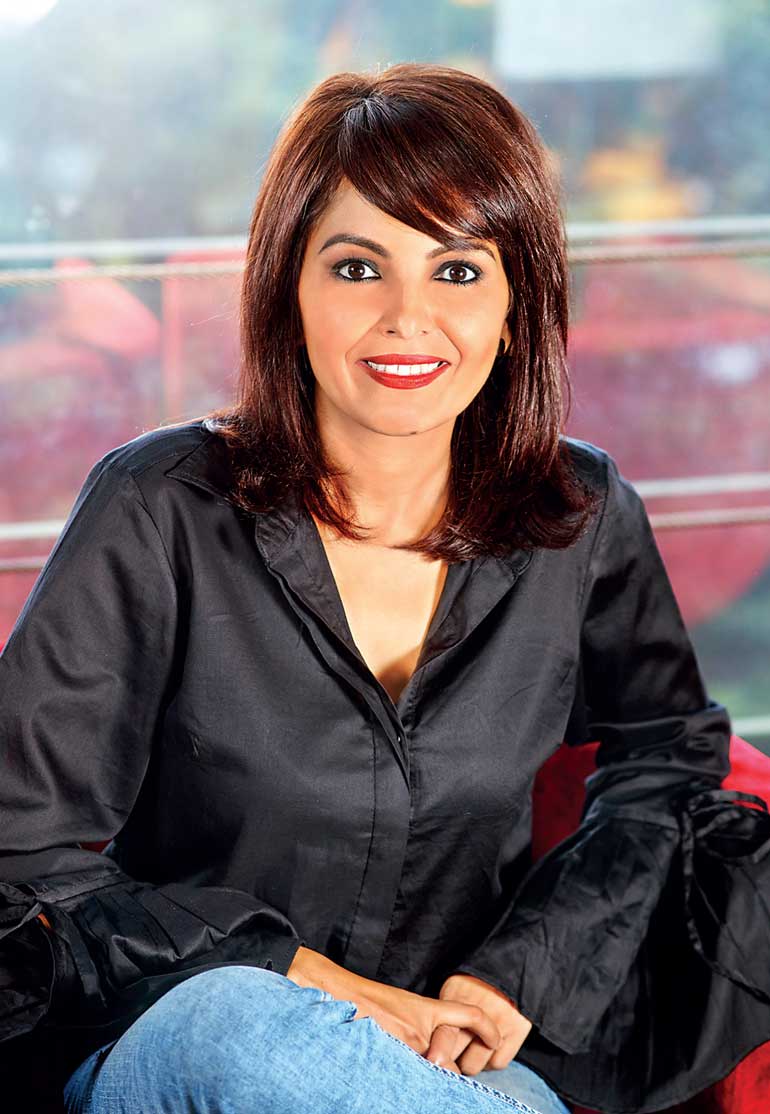 Linda Speldewind- Founder, Fashionamarket.lk
fashionmarket.lk launches #WearYourSuperpower - Women's Day 2018 campaign


This editorial series 'Wear Your Superpower' on Daily FT, leading up to International Women's Day 2018, is in collaboration with fashionmarket.lk. With it, we are decoding this fascinating social language spoken in thread, fabric, colour, texture and shape, so that more and more women will be able to use fashion to express who they are. Why? Because we believe that women, as potent influencers of social and economic change, need all possible support to assert their competence, intelligence and prowess in and out of their workplace.
"Pictures are in, talk is out—especially the long, harrowing kind. The current digital generation relates to a visual culture where it is more important to show rather than to articulate. In this visual wave, the champion of personal representation has become fashion. You are what you wear—if not, why are you wearing it? " says fashionmarket.lk and Academy of Design (AOD) founder and fashion champion Linda Speldewinde, whose wave of designers are behind this new style movement & new age online shopping platform, fashionmarket.lk, which is currently making waves for its unique products, customer experience, outlook and global expansion, selling to 20+ countries, including USA, India, Canada, Singapore, UAE, Australia, and Malaysia.


Who is the woman you have in mind that you want to talk to through this movement?


The woman who buys in to this movement is independent, fearless. She's bringing her intuition, IQ, EQ and the superpower of seamless multitasking, to the work table. She not only strives for perfection in everything, but also achieves it with her stubborn determination to get everything right. She's so in charge & she's got it together & wants to influence the world she lives in. fashionmarket.lk's question is, 'hey wait, why does she not 'look' it?' Why does she not want to make a strong statement with what she wears too and make that as authentic as she is?


Do you think fashion can help corporate women in their journey to the top?


Often, women who are looking to cement her reputation at work have a difficult time identifying the way in which she is to dress. Should she follow the rules? Invent her own? Embrace her femininity? Play it down and muster a rigid masculinity to match her male peers? Fashion, especially when it comes to work, seems to become inexplicably complicated. Fashion itself is misunderstood as frivolous & not seen as something that can build your own individual style statement, which will actually have a voice of your own. For example, you could be working in a bank among 25 different people but the way you look is so individual that you stand out, not in an overt, 'hey look at me' kind of way but in an intelligent, sophisticated, individual manner.


What does fashion currently mean to most women?
We ran a campaign last year called 'She inspires'. When setting out to decode the connection between women, their careers and fashion, answers we received started from everyday confidence, mood influencer, and performance enhancer to cultural identifier and went as far as an expression of power. What it proved was that fashion in fact, is much more to women that we give it credit for. In the bigger picture, fashion is part of a woman's voice and making herself heard.
What are your thoughts on enhancing style in the workplace?


Wearing your own definition of authority for work is an empowering and liberating experience for women. However, it is still a new topic in Sri Lanka. For a pioneering example of fashion connecting to the Sri Lankan working woman, we turned to the 2017 campaign 'She Inspires' presented by fashionmarket.lk. #sheinspires was a rare and unusual crusade for women and embodying their capacity for greatness through what they wear. Featuring several successful professional females highlighted in style choices that reflected their professions, lived up to their prowess and embodied their spirit, #sheinspires caused somewhat of a movement among the Sri Lankan working women.

One of the most compelling traits of the kind of work wear presented by fashionmarket.lk in this unusual campaign, was how the clothing celebrated the woman and her personality. A woman lawyer working for a software company, who was invited to be part of fashionmarket.lk's 'She Inspires' movement said the following on the spirit she aims to capture in her work wear: "My way is non-traditional, my way is out-of-the-box. Whether in my work as a lawyer in the tech world, or my life outside it, I love staying true to my way." For another woman CEO, it was about expressing her signature quality of being a corporate leader who is a true team player: "What makes a powerful woman is not her career alone, it's her values and how she inspires others also to be people of values. Kindness, true friendship and a sense of 'we' rather than 'me', are at the heart of a powerful woman," she said. For another woman tech entrepreneur, who was another flag-bearer of #sheinspires, this rang true: "Tech being thought of as a man's industry never held me back. In fact, it became an inspiration to shine brighter as a female force in it," she said. With #sheinspires, fashionmarket.lk stylists successfully demonstrated how fashion was used to enhance these successful women and their personas for work environments.


Does culture comes into play in the dress code of the workplace?


To saree or not to saree is another question. Many South Asian women are under the misconception that modern and professionally sound dressing in corporate settings involves only Western-wear. This belief is tied to regional outfits, such as the saree or salwar ensembles, being subconsciously associated with being traditionally feminine while the Western-wear clothed woman is seen as a more contemporary working female. This idea is no longer valid in the current context where radically new interpretations of sarees and other forms of South Asian attire are available in the market. A professional stylist at fashionmarket.lk offered the following guidelines: "Sarees or even kaftans paired with cigarette pants are capable of projecting intelligent, cultured and modern professionalism. Women have many great choices for powerful work wear with traditional style roots available today, and we think it's a great thing to represent your culture in the workplace."


fashionmarket.lk is about a big women's empowerment movement isn't it? It's not only about dressing women, it's also about helping women

in the village?


There is a whole set of artisanal women working on handlooms to batik etc., at a different level of thinking & they are so close to my founding vision. One of our professional women customers said it best in a note to me personally where she said:

"I like to congratulate you on your journey of instilling confidence to local working women. I was on work abroad facilitating training sessions on personality development and attending to business meetings. As I am in the profession of "personality", I hand-pick the sarees that gave me the ultimate confidence and charisma, which of course happen to be all masterpieces of fashionmarket.lk. I was enthralled by the comments I received from everyone on how beautiful the saree was and they have never seen such creativity in one piece. It made me feel proud to represent a rich heritage. On my return trip to SL last night, I was still attired in one of your pieces and admiration flowed endlessly from all corners. This is not the first instance (same applause even locally) but I believe it was the highlight. It makes me proud that one of our women have designed and produced such master pieces that can be worn by yet other independent and confident women. I visited your site to view the latest additions and saw the introduction to the page which reads as: Our sarees are for a special kind of woman. She is cool, independent and radiates an aura of strength. She is trendy but her style is her own. She is intelligent, unpretentious and connected to her roots. Her work makes a difference in this world and so do her choices in fashion. She loves Sri Lanka's craft heritage and the idea of empowering the rural woman who wove her saree. This is why she wears our island collection sarees proudly. We think you're that woman.

Honestly, I felt this piece was written for me. I thank you sincerely and whole heartedly congratulate you that you have successfully achieved your vision in such a short span of time. Look forward to more yards of designs of craft heritage."


So, tell us about the campaign you're launching for International Women's Day? It's called 'Wear Your Superpower' - what does it mean & how can women get involved?


We hear a lot about the consequences of women these days, but I want to divert our attention to what women can cause also, as equals in this world. I think it's important to celebrate this aspect of women too, as we are not only casualties but also influencers, movers and shakers of everything and we make massive things happen in the professional and business world too, we work quite well alongside men and the rest of the world quite well too. We should celebrate fellow women on the inspiration, positivity and transformation that we have caused, and can cause too, through our work, personas and lives. We want Women to remember this side of them too and this campaign is about that.

#WearYourSuperpower is for all women who believe that they are not ordinary. It's for the woman who is adventurous, inspirational and who is also kind enough to make things better for someone else. It's for the bold and the courageous kind who has what it takes to be a superheroine. #WearYourSuperpower will be a user generated campaign for women to own this and embrace it. The campaign is active on fashionmarket.lk website and social media platforms. We invite you to be part of it and connect through our hashtag #WearYourSuperpower.
Follow the 'Wearing Power' weekly series leading up to International Women's Day 2018, to discover how we are reinterpreting power for the modern Sri Lankan working woman, through the powerful social language of fashion. For more information on the campaign call 076 777 1353. Visit www.fashionmarket.lk to check how you can get involved in the #wearyoursuperpower campaign.