---
Tug-of-war continues between President and Parliament
Customary Cabinet meeting not called on Tuesday
No other day to hold Cabinet during the week with both in attendance
Constitution silent on who has power to call Cabinet
PM assures civil society he will uphold independence of Parliament
As the tug-of-war between the Executive and the Legislature continues, with the weekly Cabinet meeting not being held on Tuesday as customary, the United National Front (UNF)-led Government is gearing to bring a Parliamentary Resolution to compel the President to hold a Cabinet meeting.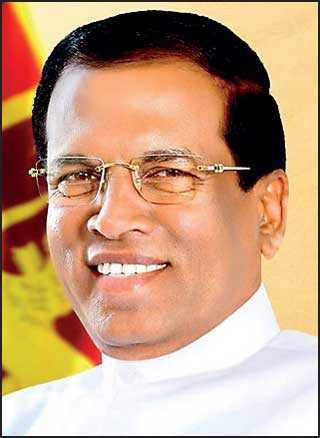 President Maithripala Sirisena


The UNF Government has decided to move a motion in Parliament to compel President Maithripala Sirisena to summon the Cabinet of Ministers after consulting constitutional experts, a source privy to the information told Daily FT. The same motion will give power to Prime Minister Ranil Wickremesinghe to hold the meeting if Sirisena fails to do so.

Tuesday was the only day to hold the Cabinet meeting with both the President and the Prime Minister in attendance, as the Executive and the Premier are scheduled to take overseas trips this week. Prime Minister Wickremesinghe is to fly to Singapore today, while the President is due to fly on Thursday to Kyrgyzstan, to take part in the Shanghai Cooperation Organisation (SCO) summit.

The Constitution states that the President is the head of the Cabinet and a member, but does not clearly outline the mechanism on who has the power to summon a Cabinet meeting. However, in the past, the Cabinet has met when the President of the country has been overseas.

Sirisena on Friday threatened to not hold Cabinet meetings if the Parliamentary Select Committee (PSC) to investigate into the security lapses before the Easter Sunday suicide bombings is not called off. During an emergency Cabinet meeting on Friday night, summoned by Sirisena, he told the Cabinet Ministers to call off the PSC. Sirisena said he will not cooperate with the proceedings, saying defence and security officials will not be allowed to testify before the Committee. The meeting ended without a conclusion, with the President being informed the Cabinet has no power to call off a PSC appointed by the Speaker.

Speaker Karu Jayasuriya, issuing a statement on Saturday, warned President Sirisena not to obstruct the PSC from carrying on its investigation. In a two-page statement, Speaker Jayasuriya noted that any public servant summoned by the PSC is obliged to give evidence, noting that the officials are fully aware of the serious consequences if they fail to respond.

Prime Minister Ranil Wickremesinghe, has assured civil society representatives who met him yesterday that he will not betray the independence of Parliament and the sovereignty of the people, noting that the Cabinet of Ministers does not automatically cease to exist.