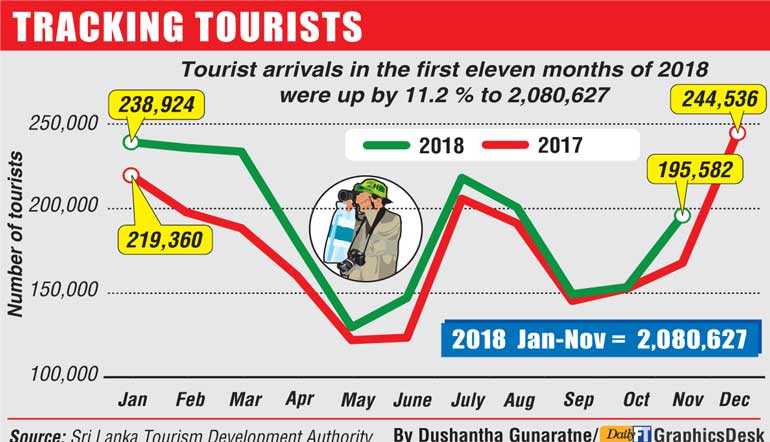 ---
First 11 months' arrivals top 2 m mark after November clocks a high of 17% growth
By Charumini de Silva

The cricket-loving Barmy Army from the UK boosted November tourist arrivals sharply, enabling Sri Lanka to cross the 2 million mark.

Total arrivals in November increased by 17% to 195,582, with inflow from the UK soaring by 61% to 22,000, with Britons following their cricket team which had a record-breaking tour in Sri Lanka during the month.

The UK also emerged as the second biggest source market in November after India and relegated China to number three. Arrivals from China in fact had declined by 2% to 19,237.

Tourist arrivals in the first 11 months also crossed the 2 million mark to finish at 2.08 million, up by 11% from the corresponding period of last year. In 2017, Sri Lanka recorded its all-time high of 2,116,407 in 2017, posting marginal growth of 3.2%, while tourism revenue rose by a similar percentage to an all-time peak of $ 3.63 billion.

According to the Sri Lanka Tourism Development Authority (SLTDA), India remained the biggest source market, up 21.4% to 32,243 in November and by the end of 11 months the figure was 379,090.

Tourism accounts for close to 5% of Sri Lanka's economy. The industry was hopeful to achieve 2.5 million to 3 million visitors by the end of this year, while expecting tourism earnings to be $ 4 billion by the end of 2018.

Popular travel guide Lonely Planet last month officially named Sri Lanka the number one country to travel to in 2019 in their annual 'Best in Travel 2019' publication.

In addition, Sri Lanka's new destination brand 'So Sri Lanka' debuted on 5 November on the opening day of the World Travel Mart (WTM) 2018 in London.

Earnings from tourism in September rose 2.8% to $ 276 million year-on-year, with cumulative earnings amounting to $ 3,212 million, posting 11.2% growth during the first nine months of 2018, the Central Bank said in its latest External Performance Report.

"Regardless of the political instability and travel advisories, the tourists continued with their travel plans to Sri Lanka. Although there was a slight slowdown in arrival numbers soon after the political crisis, we have observed that future bookings had continued to be on an upward trend. Sri Lanka will receive the highest tourist arrivals this year," industry experts told Daily FT.