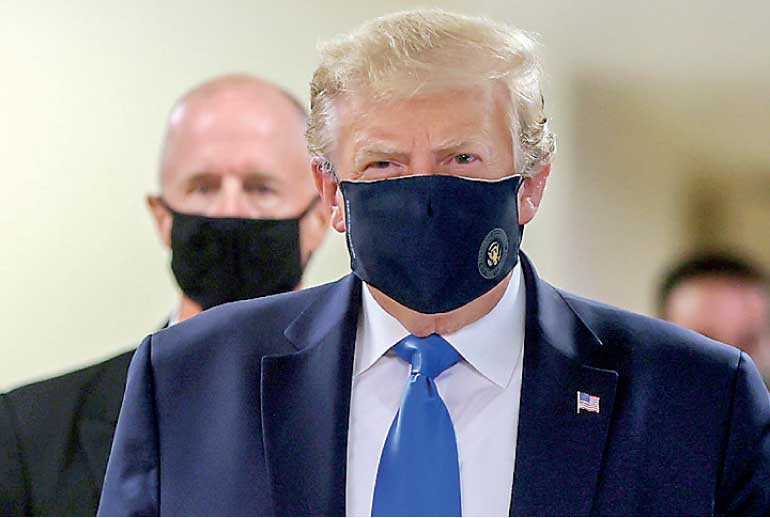 US President Donald Trump wears a mask while visiting Walter Reed National Military Medical Center in Bethesda, Maryland, US, 11 July – Reuters
---
BETHESDA, AFP: US President Donald Trump finally yielded to pressure and wore a face mask in public for the first time, as new figures yesterday unday showed the pace of the global spread of the coronavirus has accelerated.

Since the start of July, nearly 2.5 million new infections have been reported, a record level since the first outbreak of the disease in China last year, according to an AFP tally.

And in just a month and a half the number of cases worldwide has doubled, according to the count based on official figures.

Hours after the World Health Organization urged countries to step up control measures, Trump donned a dark mask bearing the presidential seal as he visited wounded military veterans in a hospital outside Washington Saturday.

"I've never been against masks but I do believe they have a time and a place," he told reporters.

White House experts leading the fight against the virus have recommended wearing face coverings in public to prevent transmission.

Trump in the past repeatedly avoided wearing a mask, even after White House staffers tested positive for the virus and as more aides have taken to wearing them.

He is trailing Democrat Joe Biden in opinion polls ahead of the November election and surveys show most Americans are unhappy with how he has handled the public health crisis.

But Trump has continued to praise his own response despite a cascade of figures showing the extent of the disease's spread.

The US posted yet another daily record of confirmed cases Saturday, with more than 66,500 new infections, while the death toll rose by almost 800 to nearly 135,000.