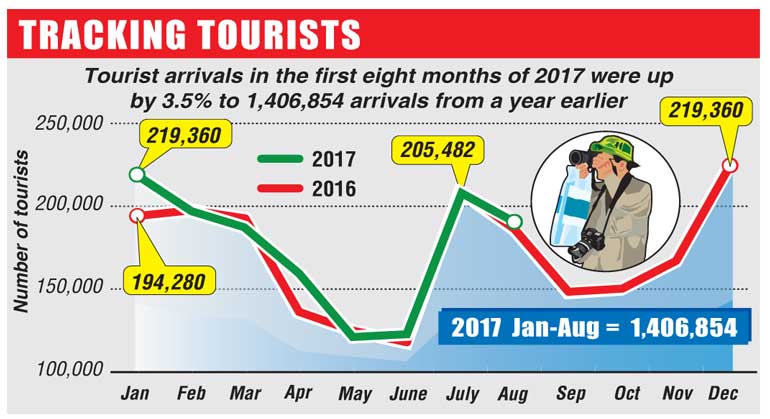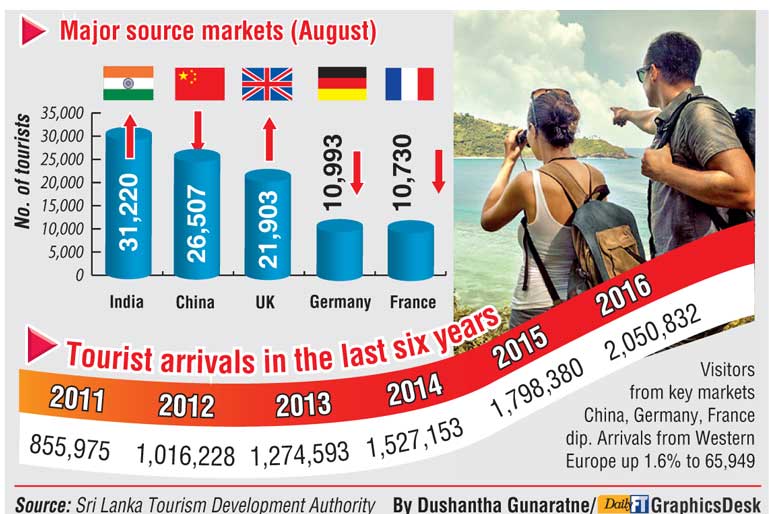 By Charumini de Silva

Sri Lanka's tourist arrivals rose marginally by 2.5% to 190,928 in August from a year earlier, largely affected by a sharp drop in visitors from key tourism sourcing markets including China, Germany and France, Government data released yesterday showed.

According to data released by the Sri Lanka Tourism Development Authority (SLTDA), cumulative arrivals of tourists in the first eight months rose 3.5% to over 1.4 million (1,406,854) compared to 1.3 million in the same period last year, continuing the growth momentum established in 2010.

India continues to lead arrival figures with 233,120 followed by China (189,696), the UK (141,378), Germany (89,459) and France (73,081).

Visitors from India, Sri Lanka's largest generating market, rose 27.9% to 31,220 for the first eight months of the year. Although tourists from Western Europe climbed 1.6% to 65,949 in August, arrivals from France and Germany fell 0.7% to 10,730 and 10.1% to 10,993 respectively. UK visitors rose 7% to 21,903, while tourists from The Netherlands increased 20.5% to 5,697.

Tourist arrivals from East Asia rose 2.4% to 42,417 while Chinese visitors continue to drop 3.7% to 26,507 breaking off from a trend of double digit growth seen in recent years. Tourists from China during the period of January to August fell 0.7% to 189,696 compared to 190,992 in the same period last year.

Tourism Development Minister John Amaratunga asserted the decline seen in key sourcing markets was a result of adverse publicity on dengue outbreak and some countries issuing travel advisories.

He also claimed that National Carrier SriLankan Airlines withdrawing flight schedules from destinations that benefitted the tourism industry for years had affected arrivals.

Amaratunga however stood firm on the country's tourist arrival target of 2.5 million by the end of the year and expressed confidence that it could even exceed this projection. "You have to aim high in order to achieve somewhere," he told journalists in Colombo yesterday.

Despite the challenges faced by the industry due to floods, the closure of the Bandaranaike International Airport and dengue outbreak, he said arrivals were now picking up.

"I think the season is going to be very good. It might even exceed our estimated target of 2.5 million tourist arrivals," he added.

Tourism accounts for close to 5% of Sri Lanka's economy. Tourist arrivals and revenue hit record highs in 2016, with annual arrivals jumping 14% to a record 2.05 million.

According to the Central Bank, tourist arrivals recorded an increase of 4.5%, year-on-year, with 123,351 tourists arriving during June 2017. On a cumulative basis, tourist arrivals grew by 4.8% during the first half of 2017 compared to the corresponding period of 2016.

Following the same trend in tourist arrivals, earnings from tourism also increased to $ 211.6 million in June 2017. Consequently, on a cumulative basis, earnings from tourism increased by 4.8% to $ 1,733.6 million during the first half of 2017.