---
Top economist Dr. Howard Nicholas will address business leaders today evening on the dynamics of global economy and their impact on Sri Lanka at a forum organised by the Daily FT and the Economic Training and Information Services (ETIS) Lanka with support from Allianz.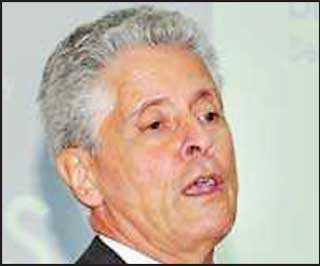 Dr. Howard Nicholas


Titled 'Sri Lanka's New Beginnings' as global economic storm clouds gather', this invitees-only forum will be held at 4 p.m. at the Ramada Colombo.

Among issues Dr. Nicholas, presently an Associate Professor at the Institute of Social Studies (ISS), Erasmus University of Rotterdam, in the Netherlands, will address are deindustrialisation and shift of the US economy; China's ascent as global leader in technology; the shift in economic policies of advanced countries; the great monetary explosion and the era of the developing countries.

On domestic issues, Dr. Nicholas will focus on 'Can the new economic policies change Sri Lanka's growth story?' and 'Is Sri Lanka's financial system sound?'

Dr. Nicholas has extensive teaching experience in the area of business economics and financial markets, having taught these subjects in a number of countries, especially in Asia. He has won the best-teacher award in his own institution for the last 18 years — which is every year since the award was first given.

On Thursday Dr. Nicholas will hold a more detailed public event from 3 p.m. to 6 p.m. at Ramada Colombo for which prior registration is required. For registration contact Ayodhya on +94 77 9830 215 or Rahul on +94 70 3776 622 or email at events@etislanka.com.

Dr. Nicholas is regularly invited to lecture on the global economy and is known by those who have attended his lectures for his early warnings on the Asian crisis (1996-8), the global crises of 2001-3 and 2007-9, and the little known crisis of the Chinese economy in 2015.

Dr. Nicholas has had considerable policy experiences in his country of birth, Sri Lanka, where he helped establish a think-tank for the Government in 1989, the Institute of Policy Studies, working closely with the Ministry of Finance and planning on a number of different projects.