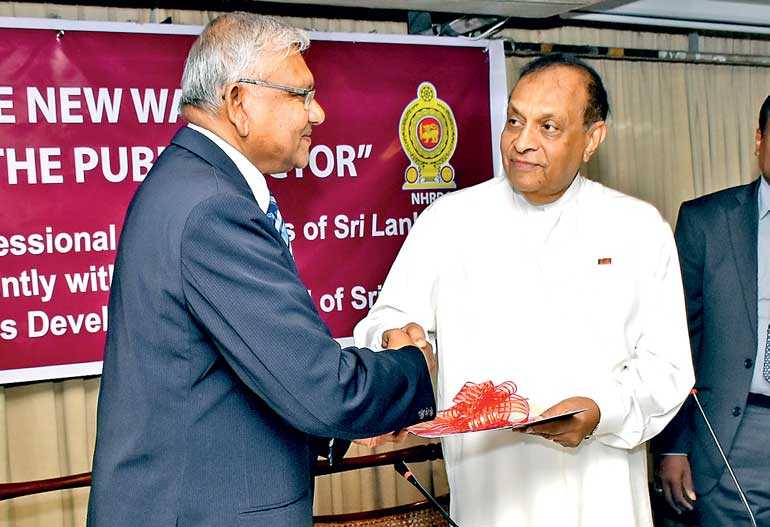 OPA President Lalith Wijetunge handing over the report to Speaker Karu Jayasuriya
By Maleesha Sulthanagoda

Speaker of Parliament Karu Jayasuriya, while addressing a seminar on "New Ways of Working in the Public Sector", held on 12 June at the Organisation of Professional Associations (OPA), directed attention towards the lack of efficiency and transparency of the public sector.

"We have to accept the fact that in a modern world, the public sector is also subjected to rapid changes and reforms. So we have to move with the times. Sri Lanka, at the moment, is a developing country. We had a very highly rated public service, but over the years there have been a decline of this standard," he stated.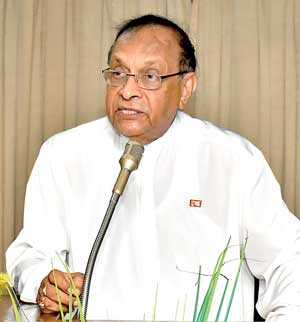 Jayasuriya also commented on what the state of the Sri Lankan public sector was in the past, and how it has deteriorated in recent times. "During the colonial era, the public sector would cater to the needs of the rulers. Yet we had a most efficient, professional and model public service at the times prior to independence. Sri Lankan public servants were advisors to many countries in this part of the world. Not only in Asia, but in other countries all over the world. Our public servants were used to establish various departments, establish foreign services and so on. But lately, the standard of the public sector have decreased. This is because the public servants who were selected were not selected on merit," he said.

According to the Speaker, recently the employment of public sector servants were rarely based on the requirements. "We agree that the selection of people for the public service became a place where you were appointed because of friends or relations, and the appointees were in excess of the required amount. There were a lot of staff members who were taken into employment that didn't possess the required qualifications, although the present rules at the time were adequate to deal them," he added.

Speaker Jayasuriya stressed the importance of overcoming these shortcomings, while mentioning that it will take time to implement them. "There are some unfortunate things that happened to the public sector in recent times. Therefore I think that time has come for these problems to be solved, and to have a public sector that is efficient and transparent but it will take time to implement these things into public sector," he added.

OPA President Lalith Wijetunge in his remarks said: "We all agree that an efficient and effective public sector is the life blood of the nation and the foundation for good governance. Politicians change, but the public sector remains the same. This demonstrates the reason for excellent quality of the public sector in developed countries. We have gathered here to discuss the summary of recommendations, which should be implemented as an urgent need to be the first step towards the reforms of the public sector. The fact is that improving Sri Lanka's economic performance depends on creating a highly productive and efficient public sector. Today, we need to explore how the public sector can improve, and make it free from politicization to attract real and genuine patriots to develop our country. The core issue is, if we are true patriots, in order to save our nation from the current tragic calamity, firstly it is imperative and essential to totally eliminate political influence in the public service sector. Secondly, all appointments to public service corporations, statutory boards and also to Sri Lanka's overseas service, from the lowest position to the highest position, should been a merit-based system. Thirdly, formulate and implement a code of discipline of high standard covering ethics. This may be the last opportunity that we get to free our nation from unprincipled politics."

Pix by Indraratna Balasuriya