By Maleesha Sulthanagoda

Enterprises using modern technologies such as cloud computing, cloud storage, and Artificial Intelligence has become a staple in most countries of the world. International Business Machines (IBM) are pioneering this movement by providing new age solutions to modern problems faced by businesses, said IBM Country General Manager Riza Wadood at a media round table discussion held last week.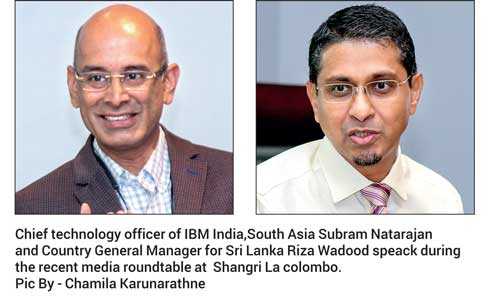 "IBM have been assisting in many businesses in Sri Lanka. From most government institutions, to insurance companies, IBM has been their main technology solution provider for many years. Going forward, IBM will not just be about tech, but convenience, and customer experience," he added.

Speaking at the media event, IBM Chief Technology Officer (CTO) India/South Asia Subram Natarajan, gave insights on the technology solution provider's extensive Cloud systems, and advancements as well as implementation of A.I. technologies.

"In recent times, only a small portion of companies are implementing cloud-based services to their business models. Cloud storage makes the manipulation of data, and the access to information seamless, and efficient. Most multi-national corporations use cloud to move non-essential data out of the physical premises. This helps in increasing space on-premises, and reduces costs for things such as maintenance."

Natarajan went on to address the biggest misconception surrounding cloud services, and noted that the advantages of using cloud far outweighs the negatives.

"The main deterrent for using cloud is the costs. Although it is true that some forms of cloud storage, and computing can be more costly, the benefits of using cloud far outweigh the negatives. This is very clear in the case of Hybrid Cloud Services. Hybrid cloud refers to a system where a portion of data is stored in a cloud storage program, and another portion of data is stored on-premises. This becomes handy for business when there are very sensitive bundles of data that require an extra level of protection. Hybrid cloud is also useful to businesses which have certain time periods of heavy customer engagement. As storage uses computing power, it will be easier to function when most of that computing power is not being used on accessing, storing data on-premises," he elaborated.

According to the CTO, the benefits for companies from using data is immense. As data will be the pivot to all digital transactions, and engagements, transforming this data into insights will be the end goal.

Natarajan also mentioned that 'Unlocking the value of data', entails the development, and the implementation of Artificial Intelligence, or Augmented Intelligence (A.I.).

"An example for data being unused is when a customer uses a credit card to buy a product. The company will know the nature of the purchased product, the price, and other similar products. This is just an observation through data. To successfully use this data, the company must be able to inform themselves on the use of this data. The company should use this data, and promote similar products to that particular customer. We call this, 'Unlocking the value of data'. This stage is where A.I. will come into play.

"Sifting through copious amounts is a daunting task, especially if done manually. Technologies such as A.I. are equipped to deal with these sort of tasks. A.I. will be a major contributor in taking businesses to the next level. Most business solutions are on track to be based essentially on A.I., and every industry will use it in their future activities," he added. A.I. is an area of computer science that emphasises the creation of intelligent machines that act, react, and mimic sentient functions. This involves tasks such as learning, problem solving, reasoning, perception, planning, and the ability to move objects.

Natarajan noted that although the essence of A.I. is based on machine learning, the technology will always be driven by human ingenuity, as it is not self-sufficient.

The IBM South Asian CTO in his closing remarks noted the failure of businesses to efficiently implement cloud services, and A.I.

"Nowadays, the data available to businesses are not being harnessed. Only 64% of businesses are only thinking about using the data available to them. By increasing awareness on available A.I. programs, we will be able to drive change in many industries. IBM's new frontier is A.I. Data, and insight driven enterprises will be a major outcome of this endeavour," he concluded.

IBM is a 100-year-old company with strong outreach across many countries, and has been in Sri Lanka since 1962 with clients in the insurance, banking, telecom, and public sector.