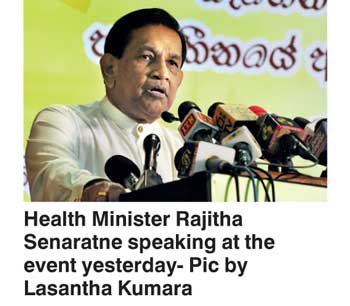 The Sri Lanka Palestine Parliamentary Friendship Association (SLPPFA) yesterday held a rally in support of the State of Palestine and opposing moves by US President Donald Trump to recognise Jerusalem as the capital of Israel.

Pledging Sri Lanka's support to Palestine, SLPPFA President Minister Rajitha Senarante said that the country will always stand by the State, as it had in the past.

"We are with Palestine through all difficulties," he told the gathering.

The Minister also spoke of atrocities faced by the people of Palestine which he experienced firsthand during a visit earlier this year.

"We saw the tragedy and devastation that had occurred in the county. We saw how Jewish settlements were encroaching on Palestinian land, and how Israeli soldiers were roaming the streets of Palestine. We observed how resources of the State were being plundered by Israel in partnership with multinational corporations," he said.

The Minister further said that 25 members of the Palestine Parliament are in Israeli custody, making it difficult for the country to hold Parliamentary sessions. The people of Palestine are fighting the Israeli encroachment with weapons made domestically as all channels to import have been blocked by the Israeli Government, he said.
The SLPPFA also initiated the signing of a statement in support of Palestine and condemning the action of the US President.
State of Palestine Ambassador to Sri Lanka Dr. Anwar H. Al Agha speaking at the event thanked Sri Lanka and other nations for standing by the country in their hour of need to vote against the US move.
"We will never surrender," he said defiantly.
Calling President Donald Trump "arrogant, rude and crude," he said that he has been condemned by the entire world.
Dr. Agha also said that the world has isolated the USA by voting against their decision.
SLPPFA Secretary JVP MP Bimal Ratnyaka and a number of MPs including Imthiaz Bakeer Markar and D. E. W. Gunesekara were also present at the event.