By Chathuri Dissanayake

The growing Sri Lankan economy presents an attractive investment opportunity to Finnish investors with different avenues for partnership in the future, Finnish Deputy Minister of Economic Affairs & Development Petri Peltonen said, in an exclusive interview with the Daily FT.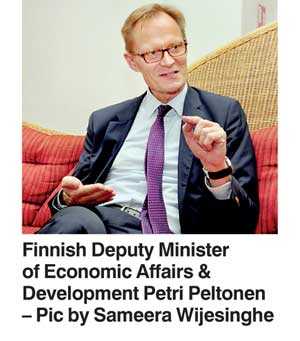 Appreciating the country's growing and stable economy, the visiting Deputy Minister said the geographical location is also another attractive feature to lure in new foreign investment to Sri Lanka.

"The Sri Lankan economy is very interesting, it's growing, Sri Lanka's location as a hub, not only to do business here but also to access the South Indian and South Asian markets is an interesting opportunity to the Finnish companies," Peltonen told Daily FT. "This coupled with a growing and more stable economy are two good reasons to consider Sri Lanka for investments."

Peltonen also said that the skilled labour force with a good command of English available in the country are also positive factors working to Sri Lanka's advantage.

The Deputy Minister is on a three-day visit, leading a delegation comprising of public and private sector representatives and focused on forming new partnerships to exchange expertise on a number of key areas, including health, education and digitalisation as well energy generation. The delegation, which includes representatives from the private sector will sign three Government-to-Government MoUs and four Business-to-Business MoUs today.

"We have commenced a new era of partnership between the two countries, the economic and business cooperation is now the driving force," he said, speaking of the renewed ties between the two countries since Prime Minister Ranil Wickremesinghe's visit last year.

"The Prime Minister highlighted that there are two areas for us to work in cooperation between the two countries – one is energy, and the other is digitalisation. They are broad themes, but of course highly relevant," Peltonen said, speaking of plans for cooperation in future.

The MoUs signed indicate the clear interest and commitment into partnership, both at the level of Governments and the private sector, he said.