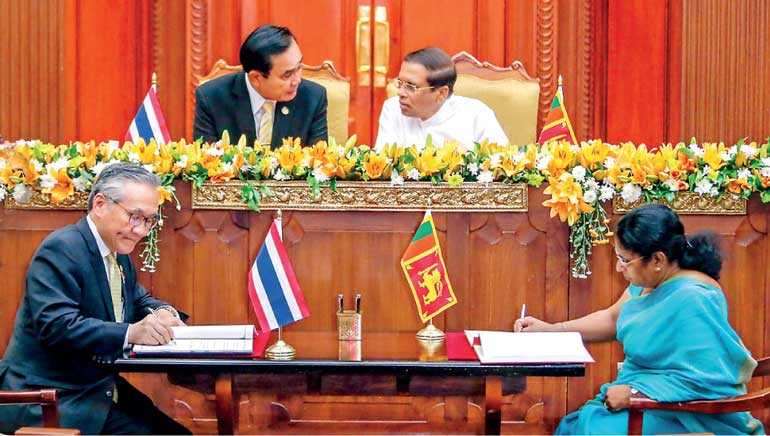 4 agreements signed between the two countries


Sri Lanka and Thailand sighed four agreements this week during the two-day official visit to Sri Lanka by Thai Prime Minister General Prayut Chan-o-cha, aimed at developing economic partnership and technical cooperation between the two countries.

During the meeting with President Maithripala Sirisena and visiting the Prime Minister, discussions also focused on developing a joint tourism promotion program to take the Buddhist heritage of both countries to the world.

Following the bilateral discussions, the two countries signed a number of agreements to strengthen relations. A Memorandum of Understanding (MOU) on Strategic Economic Partnership was signed by Minister Malik Samarawickrama and Thailand's Deputy Minister of Trade.

An agreement on Joint Action Program for Cooperation on Sustainable Community Development Model Based on the Application of Sufficiency Economy Philosophy in Sri Lanka was also signed, while another MOU was signed on Technological Collaboration Related to Value Addition of Primary Products by Kasetsart University in Thailand and the Ministry of Primary Industries.

Further Minister of Justice Thalatha Athukorala and Thailand's Foreign Minister Kobsak Pootrakool signed a treaty on the Transfer of Offenders and on Co-operation in the Enforcement of Penal Sentences.

The Prime Minister of Thailand, who was visiting Sri Lanka on the invitation of President Sirisena, extended an invitation to President Sirisena to visit Thailand again to further strengthen the cooperation and friendship between the two countries

Appreciating the relations between the two countries, both leaders focused on exploring opportunities to strengthen ties during the bilateral discussions, a statement released by President's Media Division said.

President Sirisena appreciating the progress made by Thailand in the agricultural and technical sectors and requested assistance to develop fields in Sri Lanka. General Prayut Chan-o-cha agreed to this request, promising to take steps for cooperation, the statement said.

Further General Chan-o-cha also pledged to explore the possibility of providing more opportunities for Sri Lankan tea in Thailand, the statement said.