2-day celebration in Colombo and Arugam Bay to mark global event
Over 100 participants expected from 40 countries for surfing competition in Arugam Bay
Govt. focused on sustainable, responsible, and universally accessible tourism
Minister Amaratunga to promote SL's post-Easter Sunday tragedy recovery at 23rd UNWTO General Assembly in St. Petersburg, Russia this week


By Charumini de Silva

Sri Lanka Tourism is all set to celebrate World Tourism Day 2019, with a two-day celebration on the UNWTO's theme 'Tourism and Jobs: A Better Future for All'.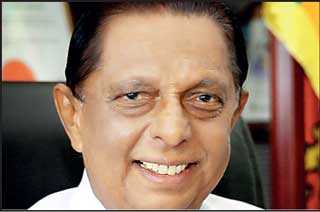 Tourism Development Minister John Amaratunga


Recognising the importance of this year's theme, Sri Lanka Tourism Development Authority (SLTDA), in association with Sri Lanka Tourism Promotion Bureau (SLTPB), Sri Lanka Convention Bureau (SLCB), and Sri Lanka Tourism Hotel and Management Institute (SLITHM), under the purview of the Tourism Development Ministry, has organised a two-day celebration in Colombo and Arugam Bay to draw public attention to the importance of this year's theme to mark the global event.
The inauguration ceremony will be kicked off on 27 September at the Independence Arcade in Colombo followed by an exhibition, a job fair, food street and entertainment. In addition, the Tourism Study Program Department of Economics of the University of Colombo will hold its annual Tourism Leaders' Summit (TLS) and International Tourism Research Conference (ITRC) themed 'A way forward for Sustainable Tourism Development' on 28 September at the BMICH to mark the global event, while an international surfing competition will also be held in Arugam Bay on the same day.

"Sri Lanka has recovered faster than expected post-Easter Sunday terror attacks and thanks to the global Bohra Convention, we have seen the dividends of it meaningfully reinforcing the tourism industry across the board. I believe this year's World Tourism Day theme will help promote an industry that creates employment, promotes local culture and products, and nurtures sustainable production and consumption," Tourism Development Minister John Amaratunga told Daily FT.

However, he emphasised that this endeavour required the support of all stakeholders, especially the private sector, where tourism had created opportunities for thousands of Small and Medium Entrepreneurs (SMEs).

Amaratunga said that they were expecting a few UNWTO representatives in Colombo to conduct a Crisis Management Workshop coinciding with World Tourism Day celebrations.

The Minister will be attending the 23rd session of the UNWTO General Assembly this week in St. Petersburg, Russia in his capacity as a Vice President of UNWTO for the South Asian region. "I will be meeting the officials of UNWTO and will try my best to convince them to be a part of our World Tourism Day celebrations in Colombo," Amaratunga added.

In terms of the International Surfing Competition, the Minister said that they were expecting over 100 participants from around 40 countries. "We are hoping to have over 100 international surfers for the competition and with them their families and friends will also come. Thereby, it will exceed our arrival expectations. In addition, there will also be a lot of foreign media to cover the competition," Amaratunga said.

Highlighting the importance of drawing up an agenda on the long-term sustainability of the industry, Amaratunga noted that it was critically important to promote sustainable, responsible and universally accessible tourism by raising awareness over the importance of tourism and its social, cultural, political and economic value.

Taking all this into consideration, the Minister said they were now supporting the industry to recover fast and be prepared for the upcoming winter season.

"Looking at the arrival projections for 2019, we hope to get around two million to 2.1 million tourist arrivals as opposed to 2.3 million in 2018. The overall earnings forecast for this year is around $3.5 billion as against $4.4 billion recorded in 2018. Right now, the financial recovery will take a little longer than the volume recovery that we are looking at," Amaratunga pointed out.