Asks MPs to speak in one voice to show Parliament's commitment to face challenges before country
Says 95% of those involved in Easter Sunday attacks apprehended
Stresses all communities celebrating Vesak together is a welcome sign
Requests that children be sent to school
Speaker Karu Jayasuriya on Sunday requested of MPs, most of whom are members of Sectoral Oversight Committees in Parliament, to speak in one voice so as to demonstrate to the country the readiness of Parliament to collectively face the challenges before it. In the letter addressed to the MPs, the Speaker said that it has become evident now that a large amount of false propaganda has been spread around the country, since the Easter Sunday attacks up to the Vesak Day, by some subversive forces.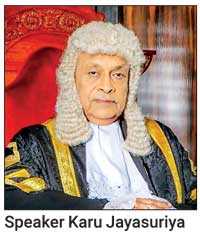 He said an extension of the activities of these subversive forces was turning on innocent Muslims and destroying their properties.

The Speaker said that while in the face of the Easer Sunday attacks, the vast majority of people acted with constraint and in a civilised manner, the mob attacks that followed have tarnished the image of the country, and particularly that of the Buddhists in the country.

The Speaker said that the security forces have apprehend 95% of those involved in the attacks, and the rumours of terrorist attacks on Vesak Day were unfounded, as was seen in the manner in which people engaged in their religious activities without any hindrances. He noted that it was important for people to get back to work and for children to go to school

'One notable feature in this year's Vesak celebrations was how people of all faiths come together to celebrate the festival, which is welcome, that the country which we all pray for can become a reality. A country in which all communities can live together in peace and unity," the Speaker said.

The Speakers said that Parliament is taking several measures to ensure that some of the problematic issues that hinder inter-communal relations are resolved permanently. The Ministry of Muslim Religious Affairs, Justice Ministry, Higher Education, Law and Order Ministry are among those working with the Sectoral Oversight Committees on related issues.

He said the cooperation shown by both Muslim lawmakers as well as other members of the community clearly show that there is no room for fundamentalism in the country.

The Speaker requested all MPs, irrespective of which party they represent, to join the President, Prime Minister and the Leader of the Opposition to ensure that the country returns to normalcy.