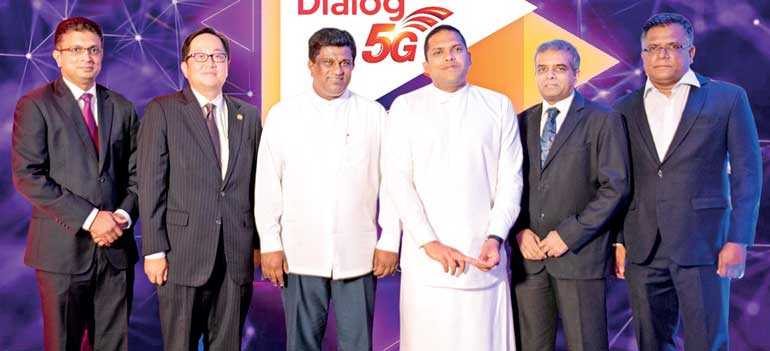 From left: Dialog Axiata Group Chief Executive Supun Weerasinghe, High Commissioner of Malaysia to Sri Lanka Tan Yang Thai, Minister of Digital Infrastructure and Information Technology Ajith P. Perera, Minister of Telecommunication and Foreign Employment and Sports Harin Fernando, Axiata Group Berhad Corporate Executive Vice President and CEO – South Asia Region Dr. Hans Wijayasuriya and Dialog Axiata Group Chief Technology Officer Pradeep De Almeida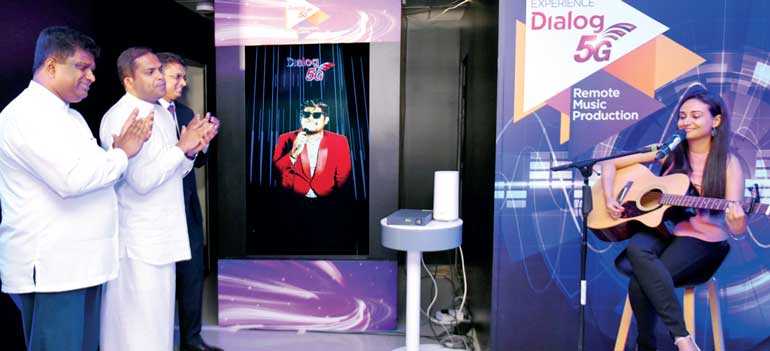 A live performance synchronised with zero delay; 5G holographic feed from popular artiste Sanuka Wickramasinghe, supported live at the event by musician Stephanie Sansoni is cheered on by Minister Ajith P. Perera, Minister Harin Fernando and Dialog Axiata Group Chief Executive Supun Weerasinghe
---
Dialog Axiata PLC, Sri Lanka's premier connectivity provider, followed the announcement of the region's first 5G (Generation) pilot transmission with the launch of a live 5G showcase featuring a holographic video call together with a holographic remote music production, 360 degree 8K video calling, and 360 degree8K live virtual reality enabled video streaming, as well as an 'AI-powered Digital Twins' mechanism and the 'Robotic Arm' amongst other 5G offerings at its flagship experience centre in Colombo.
South Asia's first live 5G showcase at Dialog was launched on 2 April in the presence of Minister of Telecommunication, Foreign Employment and Sports Harin Fernando, Minister of Digital Infrastructure and Information Technology Ajith P. Perera, and High Commissioner of Malaysia to Sri Lanka Tan Yang Thai. The live 5G pilot transmission and technology showcase was enabled in collaboration with the TRCSL supported by Huawei and Ericsson 5G technologies.

Speaking at the event, Fernando said: "Dialog has once again lived up to their word on delivering the future, today, through this initiative of showcasing the various capabilities of 5G and its real-world applications. In this day and age of rapid digitisation, I am thrilled to see the potential of the 5G faculties which will provide the way-forward for Sri Lanka to be a top IT destination."

Perera in congratulating Dialog said: "Sri Lanka has continuously led the way in the region in terms of technology introduction and delivery. The showcasing of 5G-enabled emerging technologies today is a testament to the country's leadership in the global telecommunication space and the rapid journey toward an enriching experience for a plural segment of society."

The introduction of 5G wireless networks paves the way towards the 4th Industrial Revolution by providing high bandwidth, ultralow latency and massive connectivity; enabling communication beyond connecting people, to bridge a mesh of connected machines all communicating with each other.

Further, the launch of 5G with demonstrated speeds of over three Gbps (Gigabits per second) and the potential of attaining speeds up to five Gbps, along with an achievable low latency of one millisecond on a 100 MHz (Megahertz) spectrumwill spark an unprecedented wave of innovative use cases centred around IoT (Internet of Things), AI (Artificial Intelligence), mixed/virtual reality and robotics.

Commenting on the cutting-edge series of events, Dialog Axiata PLC Group Chief Executive Supun Weerasinghe said: "Being at the forefront of technological advancements has been a part of the Dialog ethos since inception, and we are proud to demonstrate 5G-enabled emerging technologies for the first time in South Asia. The live 5G showcase is an attestation to the company's paradigm of consistently delivering 'The Future. Today'; as we continue to enable a connected future for Sri Lankans."

The interactive demonstrations exemplifying the future of possibilities of 5G technology applications, are open to the public to experience by registering via https://social.dialog.lk/5g/from 3 April to 10 April at the Iconic Experience Centre, Sri Lanka's premier tech flagship store.