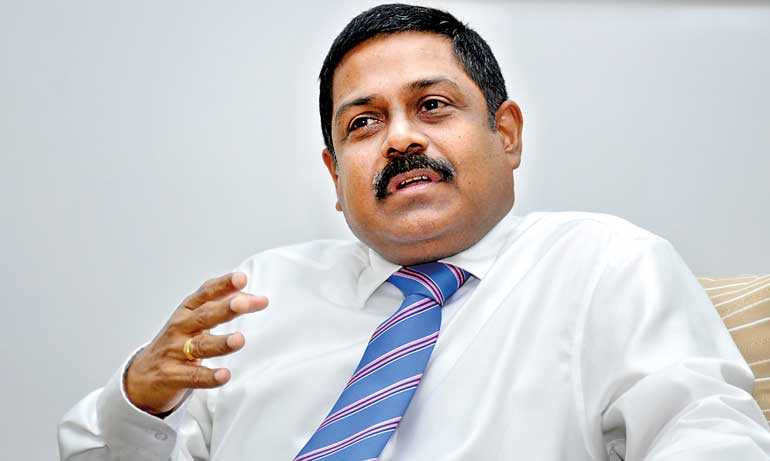 Commercial Bank Managing Director and CEO S. Renganathan - Pic by Lasantha Kumara
---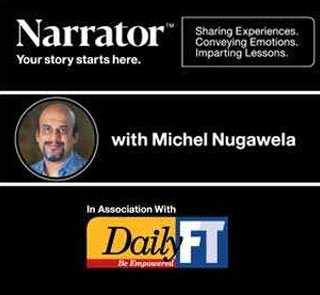 While CEOs and leaders focus on the future, we're asking them to pause, reflect on the past, and share the single-most important lesson they have learned. Our lives and careers are works-in-progress, and we will always learn more in the future than we know now, but what insights could our younger selves-and other aspiring leaders-embrace and act on right now to live a more positive, productive, and empowered life? Today, Michel Nugawela asks Commercial Bank Managing Director Sivakrishnarajah Renganathan what one piece of advice he would give his younger self if he could travel back in time: Advice to my younger self and aspiring leaders: It's not enough to plan for what you expect to achieve if you don't also prepare for the unexpected.
Plan, organise, and review – that's something I faithfully practice. I have day-plans, weekly plans, monthly plans, and annual plans.

My planning and organising skills increased significantly with my transfer to Bangladesh as the Country Manager of Commercial Bank in August 2003. Commercial Bank formally acquired Credit Agricole Indosuez Bank's operations in November 2003, which included two branches in Dhaka and Chittagong.

There were many challenges and uncertainties during that time. Credit Agricole's customers were leading multinationals with a policy of banking only with a 'golden circle' of international banks, or one local bank. We were neither, and I began receiving calls and requests from customers informing me that they were closing their accounts.

I had to plead with many of them to keep their accounts with us. Some did, but others said their regional offices wouldn't permit it. By February 2004 our balance sheet was drastically down with advances to deposits greatly exceeding 100% and we were being questioned by the Central Bank in Bangladesh, some of our largest shareholders, as well as the Head Office in Colombo. I said, "Give me time, give me time!", and gradually, with the help of the team, we started building relationships, opening new branches and expanding to overcome this position.

That was the background to what came next – the 10 most challenging days of my life.

It all began with a talented and ambitious young man we recruited as the Manager to a new branch located more than 200 km away from Dhaka, who rapidly built up our business volumes in the town.

As a routine practice, I would call my Branch Managers to check on their progress on a weekly basis, and one day, when I contacted this Branch Manager, I found that he was not responding in his usual manner. This led to my discussing matters with my management colleagues and arranging for our internal Inspection team to carry out a surprise inspection on the next working day.

As I suspected, the next morning I was informed that both the Branch Manager and his family had disappeared without a trace, leaving behind multiple problems for us.

Our inspection team commenced the inspection on Sunday morning. While they were there, a large crowd of customers also descended on the branch with various allegations against the Branch Manager and demanding their money back.

At the same time on the previous day, which was a Saturday, an IT team from Colombo had arrived in Dhaka for training on business continuity planning. That night, I received an urgent call informing me that one of the three members of the team was severely burnt after getting caught to a fire in the hotel in which he was staying.

Islamic militants were extremely active in Bangladesh during that time, and an unfounded rumour spread through Dhaka that three Sri Lankan terrorists had built a bomb that detonated prematurely in the hotel they were staying in and had severely burnt one of them, also causing casualties to hotel staff and guests.

While accompanying the burn victim to hospital, I called the High Commissioner and explained the situation to him. In turn, he was contacted by BBC, CNN and other international news channels. When I arrived at the hospital, close to 100 policemen and security personnel surrounded me and tried to question me.

Meanwhile, the doctor informed me that the burn victim had sustained 80% burn injuries, and only had six or seven days to live. I informed Colombo, who told me to transport him to Singapore or Bangkok at whatever expense for his treatment. It was difficult to move him at this stage, but our options narrowed further after the hospital in Singapore refused to accept the patient because of the severity of his burns.

There were formalities to attend to and visas to obtain to fly him to Bangkok – all which the air ambulance service agreed to handle. We then found out they were trying to swindle us so we abandoned that route.

While all this was happening, on Monday I received a summons from the Rapid Action Battalion which operated under the Prime Minister's office to appear before a commission for questioning about what they incorrectly suspected was a bomb explosion.

I also had to be in close contact with the team handling the situation in the distant branch throughout. Together the team and I succeeded in reassuring and restoring confidence among our customers. Meanwhile the patient's family were also flown from Colombo to be with him, but despite all our efforts he very sadly passed away days later.

I was able to successfully manage these very challenging circumstances mainly due to the Bank's team's continuous support and my carefully planned approach.

Advice to my younger self and aspiring leaders: Life can throw challenges at you at any time. That's inevitable. But how well prepared are you? Have you built a strong team to support you? Being prepared for uncertainty is essential. Once you understand the exact challenge you should prioritise your activities and move forward.

We all make plans, but which is the most important? In time management, you have the important-urgent matrix. Out of 5 or 10 things, which one do you really want to achieve? You have to prioritise.

My higher order of priorities are to my job and managing the areas that fall under my purview, which includes my career responsibilities. My second and third priorities are to my family and helping others. When you arrange your priorities in an orderly manner, you're able to achieve them. You can also miss out on a lot of opportunities when you don't manage your time effectively.

Once you have planned and prioritised your most important goals, you then need to prepare yourself for unexpected environmental challenges. When you get up in the morning, you should know exactly what will happen during the eight hours of the day. That part of the brain is then given planned slots.

You also need to allocate part of your effective time to plan for unexpected challenges during the day. This in-between time is a reserve area in your mind that gives you both the time and space to weigh and respond to uncertainty.

It finally comes down to your mindset. Most people prefer to feel comfortable in the present, and start reacting only once a crisis has taken place. But if you can develop your mind to withstand all these unexpected challenges, you won't shatter. You won't go down.

Advice to my younger self and aspiring leaders: We live in such an uncertain world that we should always be prepared to face challenges – learn to develop effective plans by understanding the exact challenge, allocate the required time to achieve the expected, review plans and implement reviewed plans until you succeed.