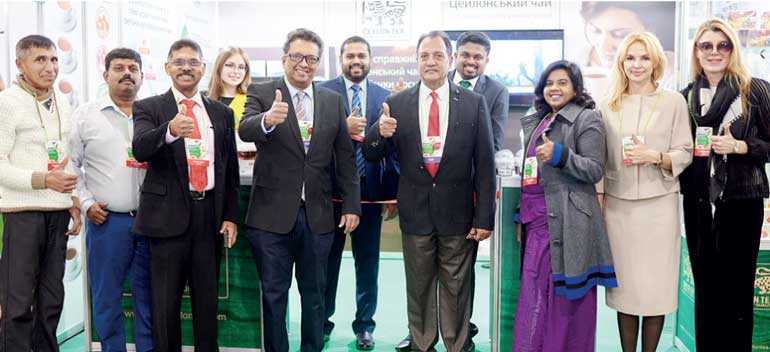 Tea Board earmarks Rs. 200 m for Ukraine until 2021 under global campaign
By Charumini de Silva

Sri Lanka Tea Board yesterday kicked-off the second leg of the Ceylon Tea global promotion campaign in Kyiv, Ukraine.

Sri Lankan delegation was led by Tea Bard Chairman Lucille Wijewardena along with Sri Lanka Tea Board Promotions team.

The three-day WorldFood Ukraine 2019 is a major exhibition of food products and beverages, which generates cash flow for the food industry, retailers and restaurant business. Sri Lanka Tea Board launched its global campaign in Moscow at the 28th International Exhibition WorldFood 2019, one of the largest exhibition serving the global food and drinks industry and the main export platform for reaching buyers of Russia's leading retail chains and wholesale companies on 24 September.

"The second edition of the global promotional campaign in Kyiv, Ukraine was unveiled today (23). We received great comments from representatives from around the world for Ceylon Tea," Lucille Wijewardena told the Daily FT.

It was the first time in the 150 years of Ceylon Tea that the Government conducted an international marketing blitz of this magnitude. Sri Lanka Tea Board has earmarked Rs. 200 million for Ukraine until 2021 under the global campaign.

He said over around 241 companies from 23 countries including Italy, Lithuania, France, Spain, Germany, Argentina, Georgia, England, Malaysia, Kazakhstan, Greece, Egypt, Iran, China, Armenia, Sri Lanka, Indonesia, Poland, Russia, Bulgaria, Belarus, Albania and Ukraine are participating this year – where organisers are expecting over 9,000 visitors from 27 countries of the world.

Sri Lanka Tea Board refocused its promotion campaign from expensive traditional methods to more effective social media platforms to reach out to a larger audience.

The Chairman also said the promotional campaign drive will later move to the two vital Far Eastern countries; Japan and China. The other target markets within the campaign include the US, Australia, Turkey, Saudi Arabia, UAE, Iran, Chile and Germany.