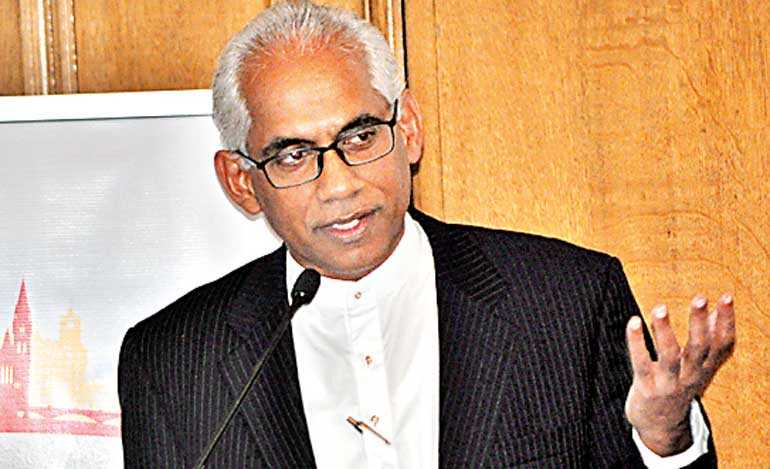 State Minister of Finance Eran Wickramaratne addresses the Invest Sri Lanka forum in Edinburgh, Scotland yesterday at the Waldorf Astoria Hotel
CSE-SEC holds first-ever Invest Sri Lanka Forum in Edinburgh after successful event in London
State Minister of Finance Eran makes case on why Scottish investors must consider SL
By Nisthar Cassim in Edinburgh

Sri Lanka's capital market stakeholders yesterday for the first time enticed investors in Scotland, highlighting recent macroeconomic progress and future opportunities.

Hot on the heels of a success exercise in London on Monday, the Colombo Stock Exchange (CSE) and the Securities and Exchange Commission (SEC) held an evening investor forum in the Scottish capital of Edinburgh. The Invest Sri Lanka forum held at the Waldorf Astoria in Edinburgh saw over 20 funds and institutional investors based in Scotland attending.


State Minister of Finance Eran Wickramaratne spoke to the investor group, highlighting some of the noteworthy progress achieved in ushering democracy and socio-economic prosperity in Sri Lanka amidst challenges.

He said that the Government had stabilised the economy whilst implementing policies to accelerate growth. Some of the highlighted initiatives included the Government's Vision 2025 initiative and developing Sri Lanka as a hub pursuing greater economic cooperation with a host of countries via FTAs.

Steuart Investors former Portfolio Manager Angus Tulloch spoke of his experience and success in investing in Sri Lanka and said the country had great potential. Lynear Wealth Management Managing Director Dr. Naveen Gunawardane provided a snapshot of specific opportunities in Lankan capital markets and also highlighted the resilience of the Sri Lankan economy. He said Price Earnings Ratio at the CSE being nine times was s one of the lowest in the region and leading banks were trading below their book value.

SEC Chairman Ranel T. Wijesinha, CSE CEO Rajeeva Bandaranaike and SEC Director General Vajira Wijegunawardane also spoke and all officials were involved in a panel discussion clarifying questions from Scottish investors.

A contingent of 11 listed Sri Lankan companies participated at the Edinburgh forum and had one-on-one meetings with interested Scotland-based investors and fund managers. The companies were JKH, Commercial Bank, Dialog Axiata, Melstacorp, NTB, People's Leasing and Finance, Aitken Spence, Tokyo Cement, Sunshine Holdings, Union Bank, and Resus Energy.

The Edinburgh event was following a successful exercise held at the London Stock Exchange which saw over 100 funds and investors participating and holding a host of one-on-one meetings with Lankan listed companies. Apart from the 11 at Edinburgh, HNB and Sampath Bank attended the London forum, which was followed by the symbolic opening of trading of the LSE by Prime Minister Ranil Wickremesinghe.

The Invest Sri Lanka investor forum series held in UK, US, Singapore, Australia, New Zealand, Switzerland, India and the Middle East have helped to trigger foreign investor interest.

Last year foreign investors indicated a strong renewed interest in Sri Lankan stocks in 2017. Net foreign inflows amounted to Rs. 17.7 billion compared to Rs. 0.38 billion in 2016, driven by 48% growth in foreign purchases and foreign investor participation improved to 47% compared to 42% in 2016.

This year however, due to US interest rate revisions and redemption calls, the CSE has seen an outflow of Rs. 6 billion.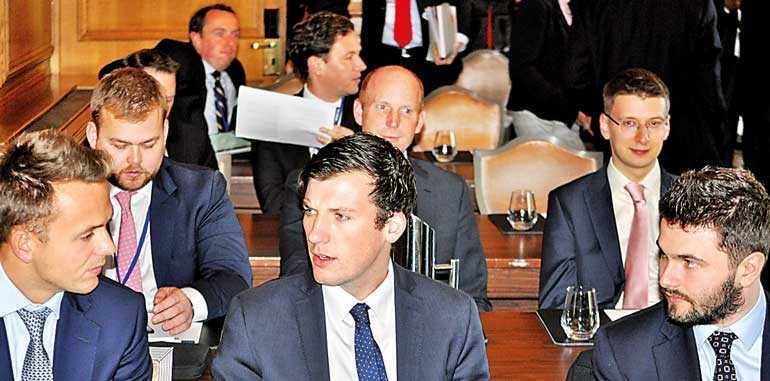 Some of the fund managers and investors present at the Invest Sri Lanka Forum in Edinburgh, Scotland yesterday