Highlights initiatives taken to address environmental challenges at UN Environment Assembly
President Maithripala Sirisena, highlighting the initiatives taken by his Government towards greening, said Sri Lanka is committed to achieving the UN 2030 Agenda for Sustainable Development and would capitalise on nature for its development.

Speaking at the Fourth Session of the United Nations Environment Assembly (UNEA-4) in Nairobi, Kenya on Thursday, the President said environmental degradation and poverty are closely interrelated and inseparable, particularly in developing countries.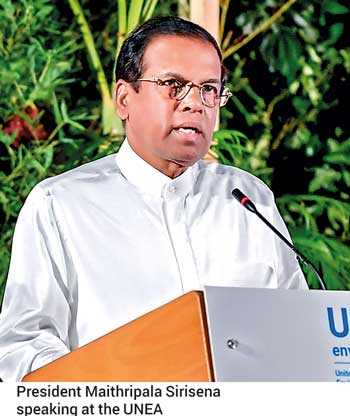 The President said Sri Lanka is the first country in the South Asian region to prepare a Sustainable Consumption and Production Policy, with the assistance of SWITCH-ASIA Policy Support Initiative and has taken several ground-level smart initiatives for policy formulation and implementation toward greening under his Government's 'Blue-Green' approach covering both land and ocean.

He added that the National Policy on Urban Air Quality Management ensures clean air for a healthy nation while importation of vehicles are restricted to EURO IV standards since oil based transport and power sectors have been identified as the main source of emission.

The President said Sri Lanka is rapidly moving to integrate renewable energy such as solar, wind, wave and biogas to the energy mix to minimise oil and coal use.

Sri Lanka is also implementing a river basin and integrated coastal management approach to prevent ocean and water resource pollution that also include plastics and chemicals.
The President highlighted that as the Minister of Environment, he had taken steps to ban manufacture and use of polythene products such as high-density polyethylene, shopping bags, carry bags, lunch sheets and lunch boxes and regulations have been enforced to prohibit the open burning of polythene.

He said Sri Lanka has taken steps to minimise unsustainable and destructive fishing practices that are damaging to corals and identifying the challenges of pollution due to intensive sea routes linking west to east, several initiatives are being taken in line with Marine Environment Pollution Control Strategy 2030.

The President, recalling that Sri Lanka signed the Paris Agreement, which is unprecedented global commitment to combat climate change, pointed out that Sri Lanka has been listed as the second highest in the global climate risk index of 2019 and implementing of climate actions are very vital to our country.

President Sirisena underscored that agriculture is the main source of livelihood for people living in the rural areas of Sri Lanka and it has much potential for greening and to be climate smart. "We like to see sustainable consumption and production and science and technology are applied in our agriculture," he said.

He said that development of agriculture would not only help strengthening the financial position of the rural farmers and various others involved in the process, but also that of the country as a whole.

He emphasised that however, one of the biggest challenges faced by the farmers in Sri Lanka is the uncertain climatic conditions.

President Sirisena emphasised that Sri Lanka as a country rich in nature, culture and heritage would like to capitalise on nature and nature-related sustainable businesses to drive the socio-economic development. In that context, the UNEA-4 provides a sound base and tools towards managing and using nature, he said.