Colombo City Centre, One Galle Face, Odel and Havelock City likely to get majority of the Cineplexs in the city
India's largest film entertainment company, PVR Cinemas to debut investing on nine new film screens at One Galle Face
Total number of screens has increased to 186 at present compared to 168 in 2001
Says Govt. keen on joint ventures to encourage foreign production houses, host regional film festivals
By Charumini de Silva


Sri Lanka will see 36 new film screens opening in the next five-years with the most advanced technologies and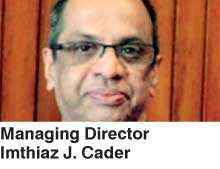 upgraded consumer experience, a top investor in the local film industry confirmed.

"Within the next five years, there is going to be 36 new screens opening in Colombo and outside the city," Liberty Cinemas Ltd. Managing Director Imthiaz J. Cader told the Daily FT.

Emphasising that most of the new Cineplexs will be setup in the upcoming mixed-development projects, such as Colombo City Centre, One Galle Face, Odel, Havelock City, he added that there will also be significant investments made outside Colombo.


He said Sri Lanka's first international six-screen multiplex under the brand name Scope Cinemas, in which Liberty Cinema holds 70% shares, will be launched on 3 August at the ultra-modern mixed development project, Colombo City Centre.

"The multiplex at the Colombo City Centre will be managed by Scope Cinemas, while Liberty Cinemas will be the main investor. We have invested a total of Rs. 350 million for the multiplex at the CCC," he added.

In addition, Cader said they have signed up to setup another six-screen multiplex at the Havelock City, the premier integrated mixed-use development project in Colombo, which is expected to be launched in 2021.

According to him, one of India's largest film entertainment companies, PVR Cinemas are investing in nine new film screens at Colombo's first internationally developed and managed integrated lifestyle destination and mixed-use development, One Galle Face.


Furthermore, he said EAP Cinemas, with its new investor UK-based Lyca Group, was also looking at upgrading and investing more on cinemas, particularly at Impala, Rajagiriya.

Cader also pointed out that the total number of screens has increased to 186 at present compared to 168 in 2001, which he describes as a result of the market liberalisation.

He acknowledged that the Government was keen on nurturing and uplifting the film industry, while noting that it was also keen on looking at joint ventures to encourage foreign production houses and hosting of regional film festivals, which would also boost the tourism industry.