About 19.5 million credit and debit cards in use, SL one of the largest cashless countries in South Asia
Tourism and apparel lead opportunities for ecommerce expansion
Calls for greater engagement with SMEs to promote cashless transactions
Assures commitment to stakeholders to drive growth of electronic payments
By Charumini de Silva

Digital payment powerhouse Visa said Sri Lanka was experiencing rapid growth in electronic transactions and expected payment value to exceed Rs. 300 billion by the end of this year, making the country one of the largest cash displacement opportunities in South Asia.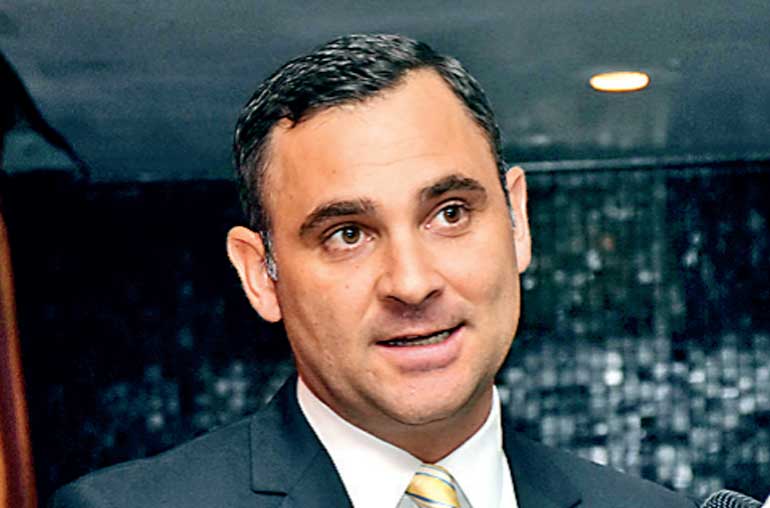 Visa Sri Lanka and Maldives Country Manager Anthony Watson - Pic by Indraratne Balasuriya
"At present the overall number of credit and debit cards is 19.5 million with 44,832 point of sales (POS) devices islandwide. In terms of value, these cards did Rs. 290 billion worth of transactions excluding POS and ATM withdrawals last year. Considering the growth momentum of cashless payments in the country, this year we are confident the amount will exceed Rs. 300 billion," Visa Sri Lanka and Maldives Country Manager Anthony Watson told journalists in Colombo.

Cash would no longer be such a powerful driver of economic development, he said.



Key sectors such as tourism and apparel showed that Sri Lanka was confident of doubling the many opportunities for expansion in e-commerce and leaping forward toward a cashless economy.


It was also pointed out that service sectors like ICT and software were picking up, while traditional exports including tea and coconut were looking at new markets, all of which would boost cashless payments.

"Sri Lanka is experiencing a growth in digital payment. It is not something in the years to come, but it is something citizens and businesses are experiencing right now," he added.


According to Watson, the impressive growth comes on the back of a number of initiatives and investments made by Visa in developing acceptance infrastructure and driving awareness of the benefits of electronic payments in the country.


"Initiatives and investments made by Visa in developing the acceptance infrastructure and driving awareness around digital payments have helped fuel growth," Watson added.


However, it was noted that personal consumption expenditure (PCE) on electronic payments remains at a very low level of 4.2%, which indicates that the future potential in Sri Lanka is great.


Going one step further from cash to digital payment, Watson asserted that greater accessibility was critical for Sri Lanka, noting that there was significant potential for expanding access to cashless transactions and for greater engagement with SMEs across the country.


He emphasised that sectors such as retail and exports needed integrated digital transaction platforms which would help businesses expand their customer reach in the global marketplace.


With the increased security provided by companies and smartphones being affordable and gaining popularity, more Sri Lankans, especially from the younger generation, were making digital payments.


"Various business models and apps being used are going to change the landscape for payments in Sri Lanka. There is likely to be a surge of growth in digital payments in this manner," he said.


Sri Lanka's mobile phone penetration is at 92% and there are over four million internet users with mobile internet via smartphones, registering phenomenal growth.


Watson said Visa was committed to working with the Government, merchants and financial institutions to continue to drive the growth and development of electronic payments across Sri Lanka.


"The digital transformation is bringing Sri Lankans closer to one another. The future lies in combining technology and access. Let's make the most of the digital commerce to empower more opportunities across many industries and to leap towards a cashless, sustainable economy," he added.