SL makes improvements on construction, tax payments, contract enforcement
India jumps 23 spots to 77th place becoming region's top ranked economy
Afghanistan moves 16 spots to 167th place
New Zealand, Singapore and Denmark global top three
Harsha hails eight task forces and steering committee
Sri Lanka has jumped 11 places to break into the 100th position of the World Bank Ease of Doing Business Index released yesterday, which maps the investment climates of 190 countries with improvements in paying taxes, enforcing contracts, and improving transparency.

The World Bank annual ratings improved Sri Lanka's Ease of Doing Business score, rated from 0 to 100, which rose to 61.22 from 59.42 last year. India, in 77th place in the Doing Business rankings, is the highest ranked economy in South Asia, followed by Bhutan (81) and Sri Lanka (100). Afghanistan topped the list of top ten improvers, showing strong performance from South Asia.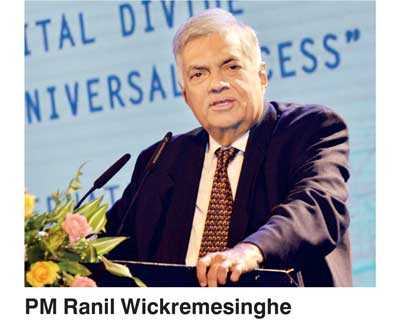 "Sri Lanka carried out four reforms, which included making dealing with construction permits easier, while the introduction of online systems made it easier to pay taxes in Sri Lanka and Bhutan," a statement said. "Sri Lanka advances to a global rank of 100 this year."

"I thank everyone in the steering committee and 8 task forces, who worked hard to make this happen #lka," tweeted National Polices and Economic Affairs Deputy Minister Dr. Harsha de Silva.

"Sri Lanka made dealing with construction permits more streamlined and less time-consuming, by launching a single window counter and improving the efficiency of obtaining certificates required to undertake a construction project," the World Bank said. "Half of all regional economies, Afghanistan, Bhutan, India and Sri Lanka streamlined the process of paying taxes."

The four key reforms carried out by Sri Lanka were:

Dealing with Construction Permits: Sri Lanka made dealing with construction permits easier by launching a single window, increasing transparency by providing online access to building regulations and reducing the processing times to issue several building certificates.

Registering Property: Sri Lanka made property registration easier by implementing a single window to streamline the process of delivering several certificates and increased transparency by providing online access to cadastral information.

Paying Taxes: Sri Lanka made paying taxes easier by introducing online systems for filing corporate income tax, value added tax and employee trust fund contributions.

Enforcing Contracts: Sri Lanka made enforcing contracts easier by introducing a pre-trial conference as part of the case management techniques used in court.

Governments around the world set a new record in bureaucracy-busting efforts for the domestic private sector, implementing 314 business reforms over the past year, says the World Bank Group's Doing Business 2019: Training for Reform report, released yesterday.

The reforms, carried out in 128 economies, benefit small and medium enterprises as well as entrepreneurs, enabling job creation and stimulating private investment. This year's reforms surpass the previous all-time high of 290 reforms two years ago.

"The private sector is key to creating sustainable economic growth and ending poverty around the world," said World Bank Group President Jim Yong Kim. "Fair, efficient, and transparent rules, which Doing Business promotes, are the bedrock of a vibrant economy and entrepreneurship environment. It's critical for governments to accelerate efforts to create the conditions for private enterprise to thrive and communities to prosper."

The report finds that reforms are taking place where they are most needed, with low-income and lower middle-income economies carrying out 172 reforms. In Sub-Saharan Africa, a record number of 40 economies implemented 107 reforms, a new best in number of reforms for a third consecutive year for the region. The Middle East and North Africa region scaled a new high with 43 reforms.

The indicator Starting a Business continued to see the most improvements, with 50 reforms this year. Enforcing Contracts and Getting Electricity saw milestone reforms, with 49 and 26, respectively.

In the World Bank Group's annual ease of doing business rankings, the top 10 economies are New Zealand, Singapore and Denmark, which retain their first, second and third spots, respectively, for a second consecutive year, followed by Hong Kong SAR, China; Republic of Korea; Georgia; Norway; United States; United Kingdom and FYR Macedonia.

This year's top 10 improvers, based on reforms undertaken, are Afghanistan, Djibouti, China, Azerbaijan, India, Togo, Kenya, Côte d'Ivoire, Turkey and Rwanda. With six reforms each, Djibouti and India are in the top 10 for a second consecutive year. Afghanistan and Turkey, top improvers for the first time, implemented record single-year reforms, with five and seven, respectively.

In a first for South Asia, two of the region's economies earned coveted spots in the global top improvers. India continued its reform agenda, implementing six reforms in the past year and advancing 23 spots to 77th place in the global ranking. India is now the region's top-ranked economy. Afghanistan, with five reforms, moved up 16 spots to 167th place in the global rankings. Collectively, the region's economies carried out 19 reforms in the past year. Many of the reforms focused on improving starting a business, access to credit, paying taxes and resolving insolvency.

"The diversity among the top improvers shows that economies of all sizes and income levels, and even those in conflict can advance the business climate for domestic small and medium enterprises. Doing Business provides a road map that different governments can use to increase business confidence, innovation, and growth and reduce corruption," World Bank's Senior Director for Development Economics and Acting Chief Economist Shanta Devarajan said.