Says public's emotional reaction expected but Govt. has moved to address situation
Believes with right policies in place SL has capacity to recover faster than other countries
Backs Govt. economic policies, says any future administration will stick to same path


Compared to other countries that have faced terror attacks, the Government was optimistic Sri Lanka can recover faster from the economic fallout of the Easter Sunday attacks, State Minister of Finance Eran Wickramaratne said yesterday.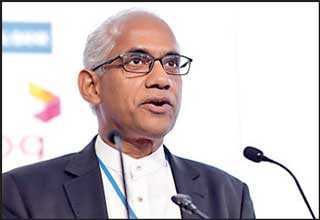 State Minister of Finance Eran Wickramaratne


Wickramaratne, speaking to CNBC on the side-lines of an investor forum in Singapore organised by the Colombo Stock Exchange (CSE), said that the Government had moved fast to restore security and formulate policies that would assist industries hit by the attacks. He also noted that since Sri Lanka has faced domestic terror before during the 27-year war, the country has somewhat better capacity to absorb shocks and move forward.

"I would say over the next two months, as things begin to normalise, the Sri Lanka tourism authorities will be going overseas and trying to explain the situation.

There are countries that have taken one to three years to come out of situations like this, we are hoping to be at the shorter end of the recovery period," he told CNBC.

The State Minister of Finance also noted that while the shock and fear felt by the public was expected, the Government had nonetheless moved swiftly to restore security and try to normalise the situation as fast as possible. Perpetrators of the attacks had also been apprehended, he said.

"It is expected that the public would be angry about this. It is a shock, it is unexpected, the question is asked "Why us? Why not somebody else?" and that emotional sentiment is obvious. Naturally businesses will take some time to recover, but the Government has moved extremely quickly. Safety and security is number one. We have taken all the measures necessary to make sure that Sri Lanka is safe and secure."

"It was a small group of people who were involved in these attack, and most of them have been arrested now, and we have done a remarkable job in just one month. The GDP contribution from tourism is about 5%, so the total impact on the economy is going to be much less, but we understand the companies will have issues, so we have taken steps to ease cash flow issues by providing a moratorium to these companies that have taken debt," he added.

Responding to questions about possible political turmoil later this year as Sri Lanka heads to elections, Wickramaratne nonetheless insisted the Government is already on the right policy track and any future administration would have to move broadly along the same lines.

"Sri Lanka is a democracy. Our democratic institutions are strong. Recently when we had a political upheaval in October, the democratic institutions came through. Parliament was strong, the Judiciary was strong, and we have periodical elections as per the Constitution. Governments change in Sri Lanka, they have changed in the past, and governments can change in the future, but on the economic front I don't think whichever government is in power, the economic trajectory we have taken or the path we have taken will change."