Says improvement in macroeconomic fundamentals can help SL turnaround
Predicts e-commerce will drive economic growth in SL
Insists next global crisis would be political, due to snowballing of poor policies
Claims Central Banks around the world adopt poor policies leading to political crises, theft of income, rise of 'zombie' companies
Says in Asia, capital allocation disciplines are still in place
Come 2020, the US is biggest concern; expects relatively mild investment-led recession within next three quarters
By Charumini de Silva

Sri Lanka could be a big beneficiary of China's Belt and Road Initiative (BRI) such as other Asian frontier markets, given that macroeconomic fundamentals are improved, a world renowned economist said recently.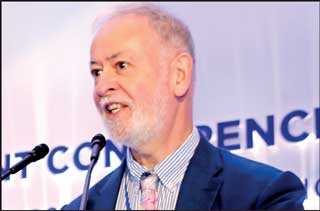 Dr. Jim Walker


Macroeconomist and internationally renowned emerging markets investment expert Dr. Jim Walker delivering keynote address at Asia Securities 3rd Annual Sri Lanka Investment Conference titled 'Global Growth and Geopolitics – More Pain or Progress?' said that despite the investment relative on return on equity (ROE) and broad money growth are all negative in Sri Lanka, there is still hope to turn around situation.

Dr. Walker is the Founder and Chief Economist of Asianomics Group, and the Chief Economist at Aletheia Capital.

He said Asian frontier markets partnered with the BRI as these markets also get upside. Sri Lanka's growth has been relatively low during the past five years, but hopefully things can turnaround if macroeconomic fundamentals particularly in the areas of credit, investment, lending, ROE and interest rates improve.

Although most emerging Asian countries had stagnated in the past decade, Dr. Walker pointed out that they however held up the economic growth rates incredibly well as a result of the domestic demand created through e-commerce.

Given that Sri Lanka is also highly penetrated via mobile and broadband connectivity he predicted that e-commerce will drive the economic growth in the country in years to come.

"We can now bridge emerging markets with information and then create domestic market good and services supply. This way it pushes the domestic demand much higher through mobile technology and internet. The penetration was incredible over the past decade and that is what will drive economic growth in Sri Lanka," he said.

Dr. Walker sharing global economic developments, trends and implications insisted that the next global crisis would be political, due to a snowballing of poor policies.

"The next crisis the world will see will have nothing to do with economics, but it is got everything to do with politics," he stressed.

He claimed that Central Bank around the world adopt poor policies which are leading to political crises, theft of income and the rise of 'zombie' companies (loss making companies).

"Quite simply, modern monetary policies ensure too many zombie companies, industries and banks by supressing interest rates central banks have succeeded in damping creative destruction. Productivity, growth and profitability are all being forced into a state of entropy as a result. Meanwhile, politically the ramifications are whipping up a frenzy of establishing destruction," he pointed out.

Noting that the problem is with policy, he said real growth is not responding to extraordinary monetary policies. Inflation is an even bigger disappointment. "It is in nominal GDP growth that the secular slowdown is clear. The world trade is in desperate straits. It is certainly true that dollar denominated growth in 2019 was weak, but it did not contract," he said.

However Dr. Walker said that in Asia, the growth picture is much less concerning as it holds up well particularly in countries such as China, Indonesia, Malaysia and Vietnam, while inflationary tendencies are more muted, making the investment calculation much easier.

"Compared with rich countries, Asian growth looks great and that is down to more appropriate lending rates across the region," he added.

He said Asian exports experienced its second-best sales year ever. Only 2018 – the year that the trade war started and the negative narrative began was stronger. "Within the region, as a whole exports were down 2.8% year-on-year in the first nine months. For Asia ex-China they were down 4.1%. Global demand worst since 2015, but still positive. Asian export volumes were even better than dollar values."

In terms of investing under difficult economic circumstances, Dr. Walker said growth is still exciting if you research for returns. "Save, invest, and innovate; do not spend, consume and protect. Turn conventional wisdom in economics on its head," he added.

He said in Asia, capital allocation disciplines are still in place. "China, India, Malaysia, Taiwan and Vietnam all have interest rate levels that force companies to think carefully about investment decisions. It is in these high-growth countries that future fortunes will be made," he said.

Come next year, he said the US is the biggest concern. "Normally reliable forward indicators suggest that it will be entering recession within the next three quarters. We expect it to be a relatively mild, investment-led recession. Europe is still stuttering, but consensus forecasts put it at 1% real GDP growth for 2020. We have no reason to demur. Japan is expected to grow at 0.4% by the consensus. We expect it to grow around double that rate," he said.

Dr. Walker said developed countries could add more than $ 1 trillion to dollar-denominated demand in 2020, double 2019 levels.