Finance Minister justifies case for sweeping liberalisation and reforms in 2018 Budget
Laments some still have socialist mindset
Says competition breeds success and entrepreneurship, especially among youth
Assures Govt. support in creating enabling environment for free enterprise
Tells participants at E&Y Forum private sector are leaders of free enterprise
Finance Minister Mangala Samaraweera on Friday declared that Sri Lanka can no longer be a "nanny state" protecting local industry, but the country and the private sector must embrace liberalisation and reforms to be competitive and successful.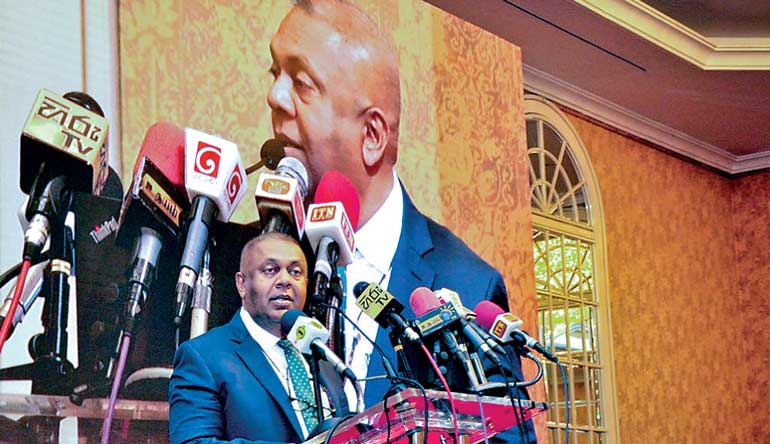 Finance and Mass Media Mangala Minister Mangala Samaraweera – Pic by Lasantha Kumara


This direct message and several others were shared at a packed post-Budget forum organised by Ernst & Young for the 18th consecutive year.


"The thrust of the 2018 Budget is free enterprise, liberalisation and globalisation. These aspects are key if Sri Lanka is to take off, reawaken and re-energise the entrepreneur in most of Sri Lankans,"Samaraweera said.



Noting that over 1,200 para tariffs were removed via 2018 Budget and the remainder would be phased out over the next three years, the Finance Minister however said that the Government would nevertheless support the domestic private sector with an enabling environment.


Development Strategies and International Trade Minister Malik Samarawickrama pointed out that removing para tariffs should not be viewed as a threat to the local industries. "Industries must also consider various other initiatives being taken to enhance competitiveness and support for the private sector to enhance exports and innovation," he said.


Justifying another controversial move of liberalisation of the shipping agency and shipping business, the Minister pointed out that even India and Bangladesh have listed restrictions on 100% foreign ownership in this business.

"Sri Lankacan no longer be a nanny state. Some Lankans still have a socialist mindset. It is time for Sri Lanka move forward and compete. Competition breeds success and entrepreneurship, especially among the young," Samaraweera emphasised.


In his remarks Minister Samarweera also reiterated the need for Sri Lanka to regain its lost glory of being a competitive trading and entrepreneurial hub. The 2018 Budget addresses the needs for the unleashing of entrepreneurship, especially among the youth, and enhancing Sri Lanka'scompetitiveness via liberalisation and reforms.


In response to a question about whether fiscal discipline has been at the cost of accelerated growth, Samaraweera acknowledged that growth had been subdued due to the impact from droughts and floods. However he stressed that this hadn't dimmed the Government's will to move forward with greater vigour to achieve targets set and higher growth in the future with liberalisation and reforms.
Budget implementation to be made public monthly
The Finance Ministry hopes to make public the monthly progress of the 2018 Budget's implementation.



"Budgets can be promising, sound and well-delivered but when converting ideas into action it is challenging. Hence a special Budget Implementation Unit at the Finance Ministry has been set up chaired by Senior Advisor Mano Tittawella and advisor Dr. Deshal de Mel and tasked to follow up as well as make public the progress monthly," said Finance Minister Mangala Samaraweera.