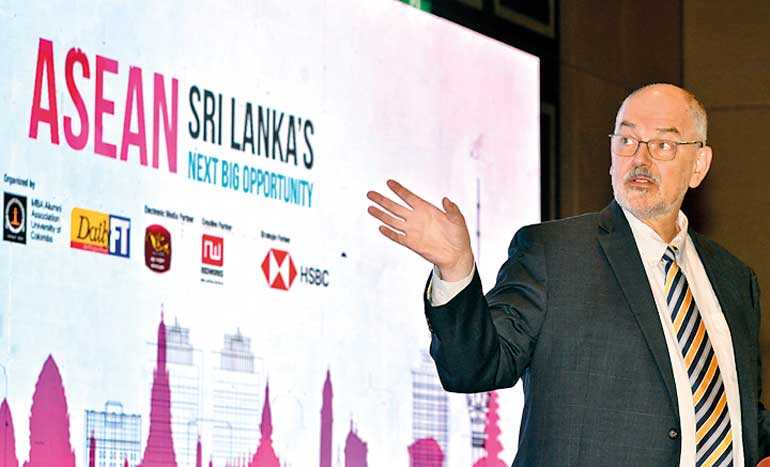 HSBC Chief Trade Economist Douglas Lippoldt – Pic by Daminda Harsha Perera
Despite US protectionist fears, the world remains committed to free trade, which provides space for developing countries such as Sri Lanka to seize opportunities to reform and integrate with global value chains, a top economist said yesterday.

HSBC Chief Trade Economist Douglas Lippoldt, delivering the keynote address at the Daily FT-Colombo University MBA Alumni Association organised and HSBC supported forum titled 'ASEAN: Sri Lanka's Next Big Opportunity,' spoke at length of the complex network of opportunities that has spanned the globe for countries, daring to seek liberalisation, greater integration and finding new avenues for growth.

Emphasising that large trade corridors are still dominated by prominent trade partners, he said small economies benefit by plugging into global value chains, and cited Sri Lanka's apparel industry as an excellent example.

With South-South trade expected to grow, he stressed that trade protectionism is not a cause for fear even if trade between developed economies could become slightly limited. "Protectionism is not the right policy, as the US did. Rather, they should engage. It is a search for growth. It can be a win-win for all economies."

"Trade was growing two to three times in terms of GDP during 2004-2008, where the world was becoming more trade intensive. Thereafter, trade grew at a much slower pace, particularly in 2015 and 2016. China revised its strategy and shifted from export-led growth to more domestic-focused consumption," he added.

Lippoldt said that during last year, goods trade increased by 5.2%, recording significant growth. However, experts predict a 4.6% deceleration in trade this year, which could drop further to 3.9% in 2019.

"So far the world remains in a fairly good position with the dynamism from emerging markets. Since 2008, global trade has seen a lot of protectionism policies and red tape, but now the world is more open. I think the proper way forward is for Government policy and trade to support businesses to continue trade without barriers," he explained.

In terms of Sri Lanka's market access, he highlighted that the impending multiple trade and liberalisation initiatives, such as FTAs and increasing access to EU and US markets, would help economic development.

Praising the direction of ASEAN, he said the ASEAN Economic Community (AEC) regional integration blueprint is built on four pillars: single market and production base, competitive economic region, equitable economic development and integration with the world economy. The region accounts for a GDP of $ 2.6 trillion, with top trade partners like China, Japan and the EU dominating trade in sectors such as electronics, chemicals, coke and fuels, mining and food.

He said that there is good progress on blueprint implementation, with as much as 96% of intra-regional tariffs eliminated, and transparency in access to trade laws and procedures with single-window access promoting trade between members and the rest of the world.

"There is potential for further benefits from trade liberalisation. But, there are also risks of trade diversion for some ASEAN members outside of the proposed Transatlantic Trade and Partnership (TTP) deal," he added.

Lippoldt described China's Belt and Road initiative (BRI) as a boost to investment and a trade complement which would boost a range of sectors. Agriculture, marine products, the energy sector, high value-added processing, equipment and engineering were outlined as key industries to watch with BRI's co-operation priorities focusing on political co-ordination, infrastructure connections, unimpeded trade, financial integration and people.

Referring to ADB data, he said developing Asia needs to invest $ 1.7 trillion in infrastructure to maintain growth, and that BRI is a gateway open to all countries, international and regional organisations.

Pointing out that trade liberalisation could help to reinforce positive trends, he commended the Sri Lankan Government's efforts in streamlining ease of doing business with the introduction of the single-window system at the Customs Department, and called for greater efforts to enhance services towards paperless trade.

With apparels and textiles comprising the largest share of Sri Lanka's exports (45%), he said the economy is experiencing a large expansion in the tourism sector as well. "This is helping to diversify trade. The vibrant SME sector in Sri Lanka accounts for 52% of GDP and 45% of total employment. Yet, only about one third of workforce in the sector comprises of women."

He said e-commerce requires policy support, particularly in readiness to promote trade. He also said that non-tariff barriers can be even more costly than tariffs.

According to the HSBC Trade Navigator Global Report 2018 Business Survey, global businesses see strong trade potential on the horizon with Asia-Pacific businesses showing the most optimism with 82% expectancy for trade growth, while North America remains the most cited target market for growth despite risks of protectionism.

"Over 60% of respondents say that governments are becoming more protective, with 40% saying cost of international business has increased as a result. Policy optimism still comes through as many firms anticipate positive results from CPTPP, the Belt and Road Initiative and ASEAN 2025. Made in China 2025 plans to upgrade, consolidate and balance manufacturing across 10 sectors. Chinese firms' top growth targets over next three to five years," he added.

HSBC Trade Navigator Global Report 2018 Trade Forecast forecasts a 6% annual growth in goods and 7% in services through 2030.

He said a key condition for trade growth is that governments must refrain from introducing significant new trade impediments. In terms of goods trade, longer-term drivers include demand for machinery and transport equipment, especially in emerging markets, with strong demand for commodities fuelling stronger prices.

"South-South trade is expected to grow, with regionalisation of supply chains reinforced by FTAs. Technological change is resulting in a faster catching up of growth in emerging markets, while advanced economy businesses will need to focus on R&D and innovation to stay competitive. Innovation is important in products and processes. Goods are likely to be increasingly bundled with services with increased outsourcing, especially of business services inputs," he added.