PAK PM says developed countries need to support poor in poor countries
Khan backs stronger trade relations, notes via PAK, SL can reach connectivity to Central Asia
SL-PAK sign five MoUs, cooperation in multiple fields, including tourism
Invites MR to visit PAK
---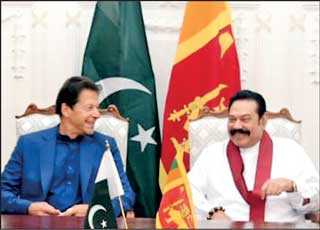 Prime Ministers Mahinda Rajapaksa and Imran Khan during the MoU signing at Temple Trees yesterday -

Pic by Ruwan Walpola
Sri Lanka (SL) and Pakistan (PAK) have agreed to jointly work on negotiating debt relief, PAK Prime Minister Imran Khan said yesterday, calling on international organisations to support poor countries to tackle economic challenges worsened by the pandemic.
Khan, who arrived in SL last afternoon for a two-day visit, was welcomed by his SL counterpart Mahinda Rajapaksa. The two Prime Ministers held bilateral discussions at Temple Trees and issued a joint statement to media following their meeting. Khan also invited Rajapaksa to visit PAK.

"We discussed how the developed countries can help the developing world. The developed world should not be insular, they must realise this is a problem that has affected everyone, but specifically it has hit the poor countries more and poor in the poor countries much more. So, we have discussed how we can jointly work on poor countries getting debt relief," Khan told reporters.

He pointed out that even though PAK came up with the biggest stimulus package in its history of $ 8 billion, it was minute compared to the US package of nearly $ 3 trillion.

"So, this is the discrepancy. The coronavirus has exposed this huge disparity in the world and that is why I feel global organisations like the UN should step in and look after the countries that have taken a real beating because of COVID-19."

Pointing out that both SL and PAK were part of the Belt and Road Initiative (BRI), Khan encouraged stronger trade between the two countries as it would give SL connectivity to Central Asia via the China-Pakistan Economic Corridor (CPEC).

"This visit is to strengthen our bilateral relationship; it is to strengthen our trading ties. Pakistan is part of BRI of China and it means connectivity and so I've asked my delegation here to find ways to enhance trade and connectivity, and through CPEC, connectivity all the way to Central Asia for Sri Lanka. Our trading ties also mean our countries will come closer together."

SL and PAK also signed five Memorandums of Understanding (MoUs) yesterday. The MoUs were targeted at improving bilateral economic and social cooperation.

"Prime Minister, you are not a stranger to the people of Sri Lanka. There are millions in this country who have admired you, your leadership on the cricket field as the captain of the Pakistan national team. Your country continues to be a valuable bi-lateral partner and Sri Lanka considers Pakistan a close and genuine friend. Our people hold Pakistan in very high esteem. Pakistan is a country that stood by Sri Lanka in times of great need," Rajapaksa said during the joint statement.

"During our bilateral discussions, Prime Minister Khan and I agreed to work closely to enhance our bilateral cooperation in the economic sector and several other areas including trade, investment, science and technology, defence and education.

"We also agreed to pursue opportunities within the Sri Lanka-Pakistan Free Trade Agreement (FTA). Our talks also focused on important regional and international issues as well as the impact of the COVID-19 pandemic. We also agreed to further engagement in the tourism and aviation sectors. Sri Lanka is grateful to Pakistan for opening travel corridors to visit ancient Buddhist heritage sites in Pakistan," he added.