Says if required legislation is put in place, SL could be a hub in Asia
Suggests to implement proposed large projects to boost investor confidence


The Colombo Port City has the potential to be a key catalyst for foreign direct investments in Sri Lanka for a long time to come, believes Standard Chartered Bank Sri Lanka CEO Jim McCabe, but only if essential legislation is put in place to facilitate Sri Lanka as a regional hub.

"We must catapult Sri Lanka into a regional centre and break down barriers that prevents it reaching its full potential. If the required legislation is put in place for the Port City, it will become incentivised and will facilitate this project, which will definitely prevent it from being a ghost city," he told the Sri Lanka Economic Summit organised by the Ceylon Chamber of Commerce last week.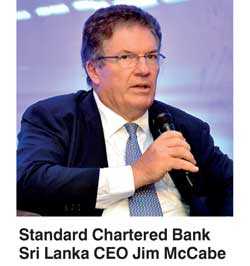 With the project set to be involved in important transfers of technology and innovation, he pointed out that this will be a significant source of employment and skill-building. In addition, he noted, it will attract large value creators for Sri Lanka in areas such as education, health services, research and development centres, MICE (meetings, incentives, conferences and exhibitions) activity, and financial services.

"I think we need to embrace it and not be fearful. I believe the benefits are in a parallel manner and it is not in competition with the rest of this country."

McCabe also suggested implementing some other large projects, including power plants, airport expansions, an oil refinery, as well as the East Container Terminal at Colombo Port that has been in the pipeline for a while, to boost public and investor confidence in the economy.

"We have many projects that are pending right now around the country. We need to take a bunch of the RFPs responded to by large numbers of local and global partnerships and make all of them happen. These are the types of actions, if carried out in a short period of time, which will truly create an important change in the minds of the local and global communities."

With the extent of the potential gains out there for Sri Lanka, McCabe called on both the public sector and private sector to work together to grab the opportunity.