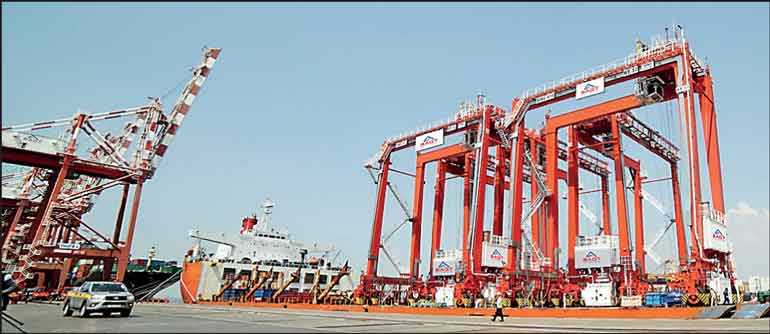 ---
South Asia Gateway Terminals Ltd., the first public private partnership stevedoring container terminal in Sri Lanka, strengthened its operating infrastructure capabilities with the addition of six state-of-the-art Rubber Tyred Gantry (RTG) Cranes recently with an investment of Rs. 1.6 billion.

The addition of the new yard handling equipment will boost the terminal's RTG fleet from 31 to 37. This latest operational enhancement follows the introduction of ten intra-terminal trailers in June 2018.

The six ZPMC built RTGsare state of the art, providing operator ergonomic comfort, optimum safety and a host of features designed for high-efficiency.

SAGT was recently awarded the "Best Terminal in the Indian Sub-Continent Region" for third consecutive year and was also awarded the coveted "Best Transshipment Hub Port Terminal of the year" by Singapore-based Global Ports Forum. With a commitment to operational best practice with safety at its core, SAGT continues to set the benchmark for best in class terminal productivity.

SAGT's Chief Executive Officer Romesh David stated: "Team SAGT is committed to continuous integration of best practices and technologies in line with our commitment to performance excellence. These investments will bolster capacity through further increases in our productivity across all facets of operations thereby contributing towards augmenting the Port of Colombo's overall container handling capacity."

He further stated: "The maritime industry faces a sustained tough global operating environment in which we continue to work in partnership with our stakeholders to deliver value to our customers through operational efficiency leading to gains through reduced transaction costs. This in turn contributes to further under-scoring the competitiveness of the Port of Colombo as the pre-eminent container shipping hub in the region," he added.

SAGT with a design capacity at inception of 1.1 million TEU (twenty-foot equivalent container units) achieved a throughput of more than 2 million TEUs in 2018. It wasthe highest number of containers handled by the terminal in a single year, since it began operations in 1999.

SAGT has been featured by top global shipping lines as a case study for partnership-based performance excellence.