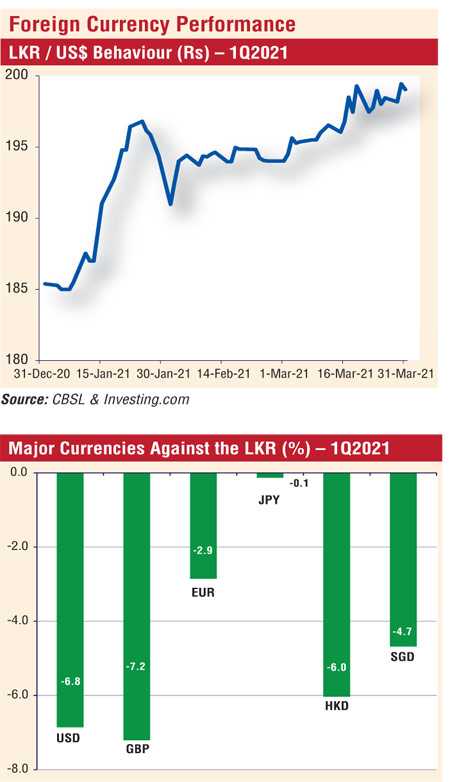 The decline of the Rupee vis-à-vis the US Dollar is likely to have a mixed impact on listed companies, according to stock broking firm CTCLSA Securities.

In an analysis of select companies, it said depreciation of the Rupee will have a negative impact for companies such as Dialog Axiata, Hemas Holdings, Lanka Lubricants, and slightly negative counters are Sunshine Holdings, Tokyo Cement (Lanka), Acccess Engineering, Cargills (Ceylon) and Ceylon Cold Stores.
Those which will benefit from depreciation include John Keells Holdings (JKH), banks, TeeJay, Hayleys Fabric, Dipped Products and hotels, though at present, tourist arrivals are very low.
The companies are part of CTCLSA's core coverage.
The Rupee slumped to a new low on Tuesday as the dollar exchange rate touched a record Rs. 202.88, up from Rs. 202.04 on 31 March.

CTCLSA said for Dialog, it will be negative as its outstanding dollar debt of $ 144.8 million will result in translational losses of around Rs. 2 billion during 1Q2021.

For Hemas, currency depreciation will impact their pharmaceutical distribution business, with 55% of drugs distributed falling under price controls. Further, margins in the consumer sector may witness pressure owing to higher material costs with Rupee depreciating.

CTCLSA said LLUB is likely to witness an increase in the cost of sales due to currency depreciation and for Sunshine, its healthcare sector is likely to be impacted by lower margins, given that a majority of drugs and medical devices are imported.

For Tokyo Cement, depreciation of the Rupee will impose pressure on Gross Profit margins due to heavy reliance on imported clinker. This could be curtailed to a greater extent with increasing exposure to blended hydraulic cement and higher plant utilisation.

For Access Engineering, importation of steel could possibly expose the company to currency risk.

CTCLSA also said currency devaluation is likely to result in higher raw material cost in the FMCG sector of Cargills and for Ceylon Cold Stores' manufacturing segment.

Among positive counters, it said JKH will benefit from depreciation via higher exchange gains from cash holdings. However, JKH's manufacturing sector will be impacted by higher raw material cost, which would slightly offset the positive impact.

TeeJay, MGT and DIPD are among positives as revenue is dollarized, while opex and labour costs are incurred in local currencies.