Rs. 11.4 b allocated for fertiliser subsidy
By Ashwin Hemmathagama
A supplementary allocation of a total of Rs. 12.4 billion was presented to the Parliament yesterday seeking House approval of the expenses incurred during 1 July to 15 August, provisioning 13 different programs and purposes.


The key allocations, which were looking for House approval includes the additional allocation of Rs. 11.4 billion for Agriculture Ministry for the expenditure of the fertiliser subsidy, Rs. 6.31 million to shoulder the expenditure of post-harvest management and value addition of fruits in Sri Lanka for the SAARC program, Rs. 4 million to meet the expenditure of rehabilitation, improvement and acquisition of capital assets, and Rs. 121.2 million to settle the outstanding commitments of the Paddy Marketing Board in year 2017.



Supplementary allocations are being provided in terms of Clause 6 (1) of the Appropriation Act as required. These are provided strictly for the purposes specified in approved Budget estimates to relevant spending agencies having carried out a needs assessment, giving consideration to relevant financial regulations, and approved procedures.


However, the supplementary provision presented yesterday did not change the approved total expenditure limits of the annual estimate by Parliament. The allocation of such purposes has been made under the Project of Budgetary Support Services and Contingent Liabilities of the Department of National Budget, and it is under the limit of the Approved Annual Budget. Therefore, either the borrowing limit or the maximum limit of total expenditure will not be increased due to granting of these supplementary provisions. The purpose of this provision is to facilitate the smooth conduct of public finance management in a more efficient and effective manner.
---
P'ment approves salary hike for Auditor General
Rs. 50,000 additional allowance to also be paid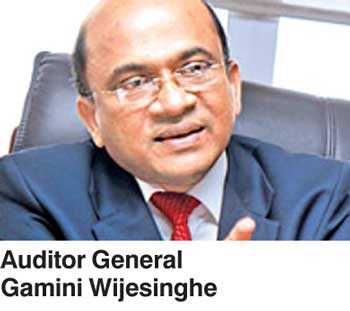 Government yesterday moved a motion in Parliament to increase the salary and other allowances given to Auditor General Gamini Wijesinghe.


Accordingly Wijesinghe will be placed on the eighth grade of the SL-4 Salary Scale of the Public Administration Circular No. 06/2006 with effect from 27 November 2015. He will also be paid salaries under the SL-4 Salary Scale converted as instructed in the Public Administration Circular No. 03/2016 when the conversion of salaries is effected as per the said Circular with effect from 1 January 2016, and is to be paid annual salary increments as specified under the said salary scale.


He is also to be paid a special monthly allowance of Rs. 50, 000 in addition to the salary and other allowances, which is entitled to the post of Auditor General.


With the Parliament approval, Gamini Wijesinghe will be paid the aforesaid monthly salary and allowances to be charged from the Consolidated Fund of the Government in terms of Article 153 (2) of the Constitution.




Moving the motion, State Minister of Power and Renewable Energy Ajith Perera said: "We promised to establish an Audit Commission when we came into power. With the 19th Amendment to the Constitution, an Audit Commission was established. Subsequently, we were able to pass the Audit Bill. The Auditor General is the key person responsible for the State finances. His independent appointment and removal are protected in the Constitution. This motion intends to strengthen the salary and allowances of the Auditor General. We have also recommended an additional allowance of Rs. 50,000." (AH)