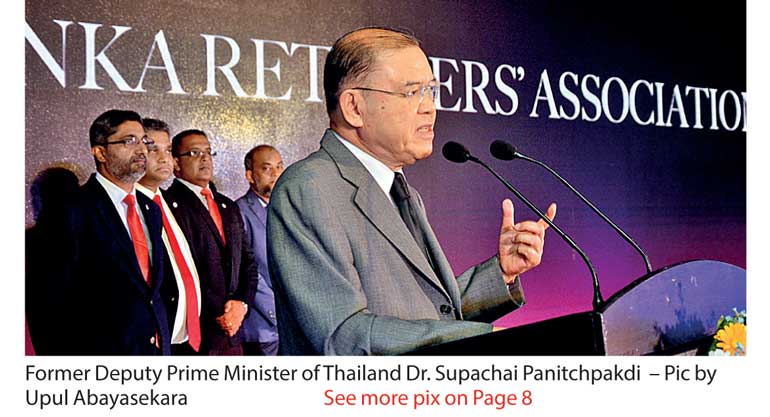 By Nisthar Cassim

Thailand's former Deputy Prime Minister Dr. Supachai Panitchpakdi yesterday declared that the retail industry was key to the revival of the economy.

Speaking at the launch of the first ever Sri Lanka Retail Forum organised by the Sri Lanka Retail Association, he said that the retail industry was very important for Sri Lanka's future success as the country evolves into a "significant hub" in South Asia.

He said the retail industry was becoming more complicated as consumers got more demanding.

However, Dr. Panitchpakdi emphasised that with challenges come opportunities since the vitality of the retail industry globally was key to the revival of the economy as consumption expenditure triggers the former.
"So a strong retailing business is important," said Dr. Panitchpakdi, who is also a former Secretary-General of the UN Conference on Trade and Development (UNCTAD).

The Honorary Chairperson of Central, Pattana, Thailand, a top retailer, Dr. Panitchpakdi will deliver the keynote address at the full-day forum today. Around 350 retail and associate sector representatives are taking part in the event at the Cinnamon Grand.

Speaking briefly at the launch, he commended the Sri Lanka Retailers Association for its inspired, concerted, pioneering and bold efforts to make the industry more dynamic and progressive. He said the formation of the association was an important step forward for both the industry and Sri Lanka.

He noted that the retail industry was not merely facilitating shopping but was an integral part of the lifestyle of consumers and society at large.

Focusing on Sri Lanka-Thailand ties, he said the two countries cherish strong bilateral relations akin to a very close family and the potential to enhance future cooperation was great. He said on his part he would link the Sri Lanka Retail Association with its Thai counterpart for both of their mutual benefit.

Sri Lanka Retail Association Chairman Hussain Sadiq and Retail Forum Organising Committee Chairman Sidath Kodikara as well as Murali Prakash, Group Managing Director, CEO, Taprobane Holdings Plc and Lanka Century Investments Plc, also spoke.