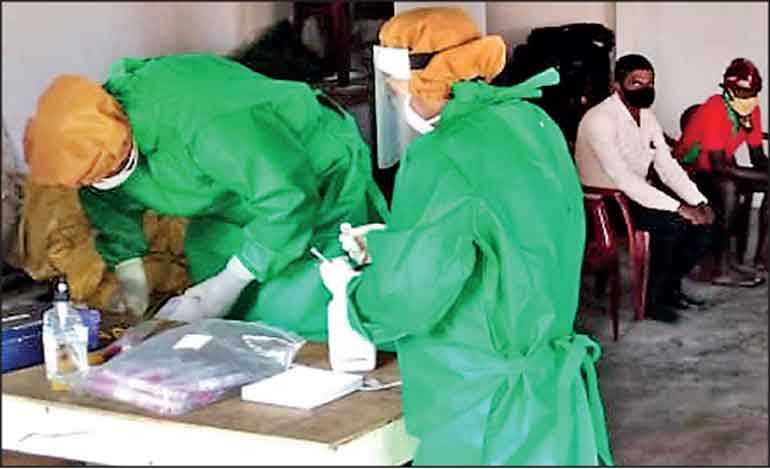 PCR test being done in Mattakkuliya - Pic by Waruna Wanniarachchi
---
Bulk of positives from Treatment and Rehabilitation Centre in Kandakadu
Kandakadu facility turned to a hospital
Cumulative total now at 2,454
Army Commander warns further increase in confirmed cases likely in coming days
Health Minister confident about prevention of community spread
By Shailendree Wickrama Adittiya

Sri Lanka reported its highest number of COVID-19 cases identified in a day yesterday with 300 new patients, shooting the cumulative figure to 2,454. Among the new cases identified were three people who had associated with an inmate who tested COVID-19 positive at Kandakadu.

The previous record number of daily cases was 150 on 27 May, of which 97 were arrivals from abroad and 53 were Navy personnel, but daily cases have been relatively low

in the last few weeks.

The large number of cases identified yesterday is a result of PCR testing carried out on inmates and staff members of the Treatment and Rehabilitation Centre in Kandakadu as well as their direct contacts after an individual transferred from the rehabilitation centre to the Welikada Prison tested positive for COVID-19 on 7 July.

While PCR tests were carried out on those who shared a ward with the individual at the Welikada Prison and prison guards, none have tested positive so far. However, over 280 detainees, staff, and their direct contacts of the rehabilitation centre in Kandakadu have tested positive for COVID-19.

Staff members on leave have been instructed to return to the centre and a counsellor who was on leave tested positive for COVID-19 in Marawila earlier this week. The individual's family and neighbours have been directed to a quarantine centre managed by the Army.

Army Commander Lt. Gen. Shavendra Silva stated that there were two rehabilitation centres in the area, one in Kandakadu and the other in Senapura. There are a total of 1,150 persons at the centres, including staff. All persons will be subjected to PCR tests and results of 375 tests have been received so far.

Lt. Gen. Silva said: "In comparison to the results received as of now, it is likely that there will be a significant increase in the number of infected persons."

"In March, April and May, relatives were not permitted to visit inmates at these centres but on 4 July, a group of 116 persons were allowed to visit their relatives at the centre," the Army Commander said, adding that the visit took place with the implementation of physical distancing and other health and safety guidelines.

All contacts are being traced and instructed to quarantine, and Lt. Gen. Silva emphasised that all measures have been taken to prevent community spread of the virus.

Health and Indigenous Medical Services Minister Pavithra Wanniarachchi stated that she does not view this as a huge challenge as health authorities faced the challenge of preventing community spread of the virus. According to the Health Promotion Bureau, the last case identified from the community was on 30 April.

The identification of new patients has resulted in a sudden increase in the total number of confirmed COVID-19 cases in the country, which now stands at 2,451. Of these, 950 are Navy personnel and their close contacts, 802 are Sri Lankan arrivals from abroad, and 31 are foreign arrivals from abroad.

The number of active cases in the country has also increased, going from 359 at 10 a.m. yesterday to 459 by the end of the day. The Kandakadu Quarantine Centre, which is managed by the Army, was converted into a treatment facility on Thursday and the patients identified from the Treatment and Rehabilitation Centre in Kandakadu have been directed to the new treatment facility for medical care.
Regarding the other treatment centres, 33 persons are under medical care at the Welikande Base Hospital, 24 are at the Kattankudy Base Hospital, 19 are at the National Institute of Infectious Diseases (NIID), and 15 are at the Minuwangoda Base Hospital.

In addition to this, 37 suspect patients are currently under investigation at various hospitals, including 11 at the Sri Jayewardenepura Hospital. The Health Promotion Bureau stated that 118,981 PCR tests have been conducted so far, including 1,424 on Thursday.

According to yesterday's situation report by the Epidemiology Unit, only one person was discharged from a COVID-19 treatment facility in the 24-hour period, ending at 10 a.m. yesterday, and this was a patient of the NIID. The total number of COVID-19 recoveries in Sri Lanka is 1,980.

The Navy yesterday stated that the number of recoveries among Navy personnel had risen to 895, and that all persons that recover will be required to undergo a 14-day quarantine.

The Navy also stated that 20 persons left Navy-managed quarantine centres in Boossa and Welikada on Thursday and yesterday. This includes 16 persons from the centre in Boossa and four from the centre in Kalpitiya.

The Navy added that 446 persons have left the Boossa Quarantine Centre so far while a further 36 persons are undergoing quarantine. As for the centre in Kalpitiya, 67 persons have left the centre having completed the quarantine process and a further 24 persons are currently undergoing the process.

In addition to this, the Defence Ministry yesterday stated that 296 persons from Dubai and 234 persons from Russia arrived in the island yesterday morning. All returnees will be required to undergo a 14-day quarantine process at a quarantine centre in Sri Lanka.