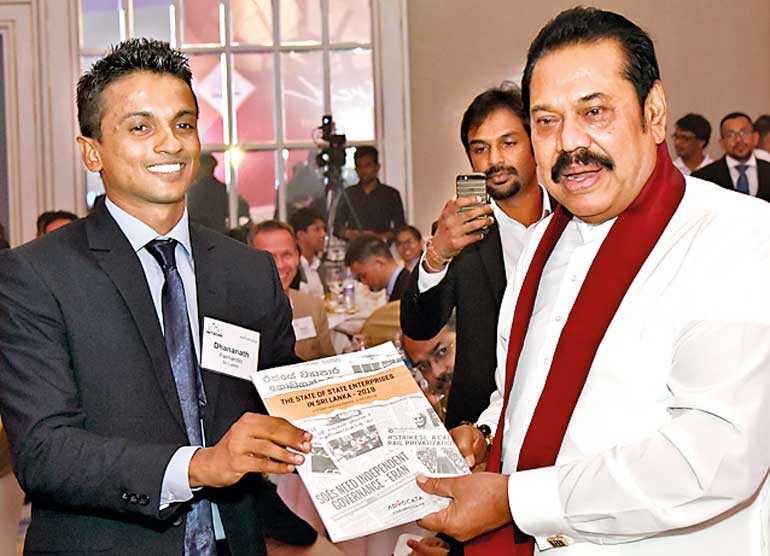 The first copy of 'The State of State Owned Enterprises in Sri Lanka – 2019' being presented by Advocata Institute COO Dhananath Fernando to Opposition Leader Mahinda Rajapaksa

– Pic by Ruwan Walpola
Think-tank Advocata in its latest 'State of State Enterprises; report calls for comprehensive SOE list
Wants strengthening of COPE and COPA, following in'tl guidelines
Of 400 odd SOEs, only 55 had regular info, of these only 11 had annual reports for 2016
Largest 55 SOEs delivered a net Return on Assets of only 0.64% in 2017
Combined losses reached Rs. 87 b in 2017, was Rs. 42 b in 2016
Central budget support to SOEs was Rs. 41 b in 2017
SOEs incorporated as limited liability companies allow politicians to bypass Treasury restrictions, evade parliamentary accountability
By Uditha Jayasinghe

Combined losses of State-Owned Enterprises (SOEs) rose to Rs. 87 billion in 2017, a new report said, calling for the Government to compile a comprehensive list of all SOEs and set basic reporting procedures, strengthen the Committee on Public Enterprise (COPE) and Committee on Public Accounts (COPA) and implement international standards to improve governance and reduce losses.

Speaking at the launch of the 'State of State Owned Enterprises 2019' report compiled by local think-tank Advocata, Resident Fellow Ravi Ratnasabapathy recapped the significant role played by SOEs in the Sri Lankan economy.

He pointed out they were vulnerable to mismanagement and corruption because of potential conflicts between the ownership and policy-making functions of the Government and undue political influence on their policies, appointments, and business practices.

"Losses and mismanagement of SOEs are so off the charts, the best we can hope for is to start with some level of basic control and accountability mechanisms so that we can bring some sanity to these proceedings. Set up basic reporting structures so we can get monthly updates of how they are performing; once you get that, you can take the next step of how to deal with it," he said, participating in a panel discussion at the 2019 Asia Liberty Forum.

The panel dwelt on the challenges posed by SOEs with speakers discussing a range of options, including complete privatisation of all SOEs, which was suggested by Carson Cumberbatch Director Suresh Shah, to finding a middle ground where ownership could be retained by the State but management would be made independent and efficient.

"If a public listed company can follow the rules, there is no reason why an SOE cannot do it because an SOE is far more public than any public listed company. I'm a strong believer in the Government having no business in business and I think the best long-term solution is privatisation," Shah said.

His views were somewhat contradicted by National Agency for Public Private Partnerships (PPPs) Chairman Thilan Wijesinha, who contended that even after privatisation, some SOEs had slipped on governance and performance.

"Listing per se is not a complete solution. What I feel is required is enforcement and empowerment. Sri Lanka has adequate legislation; we have the Bribery Act, Finance Act and enough anti-corruption laws, but what is lacking is enforcement. Empowerment of the Finance Ministry is also important because it is the beneficial owner of all State enterprises. But I have not yet seen a Finance Ministry assertive enough to control the mismanagement in SOEs," Wijesinha said.

Research from around the world has shown that State ownership does not necessarily result in inefficiency as long as governance remains a priority, stated Verite Research Consultant Malathy Knight.

"Ownership is not an issue as long as there is due process, oversight and accountability. We need to clearly identify the problem and tackle it, not just ownership. Lack of competition is a problem as well, there are also regulation lapses, which need to be addressed."

The report pointed out the internal control, monitoring and governance frameworks seem inadequate to deal with major problems. Of the 400-odd entities, regular information is only available for 55. Even obtaining a complete list of entities proved to be a challenge. Financials are routinely late and only a minority obtain 'clean' audit reports. Of the 55, only 11 had published an annual report for 2016 by the time the Department of Public Enterprises compiled its Performance Report for 2017, it said in the Executive Summary.

Underperformance appears common; according to the Department of Public Enterprises the 55 largest delivered a net Return on Assets (ROA) of only 0.64% in 2017. The combined losses among the loss-making entities reached Rs.87 billion in 2017 compared to Rs. 42 billion in 2016. Some are in deep trouble. The Petroleum Corporation carries a negative equity. Sheer incompetence and corruption have pushed SriLankan Airlines close to financial collapse. Central budget support to SOEs amounted to Rs. 41 billion in 2017, it said.

The reports of COPE and the Auditor General highlight repeated instances of fraud, mismanagement, corruption and negligence. The issues no longer appear to be isolated incidents of opportunistic behaviour by individuals or occasional lapses in control but point to deeper, structural weaknesses.

"While internal control and accountability mechanisms are important in checking abuses, they are insufficient in themselves. A climate of integrity is necessary but judged by the available evidence, largely absent. Patronage politics and a lack of oversight seem to have spawned a culture where politicians believe SOEs are to be exploited for their own ends," the report said.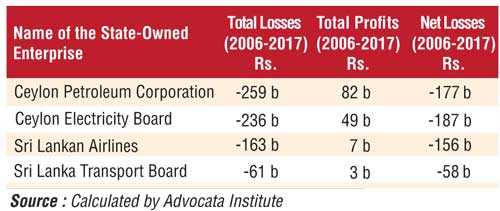 "A trend for SOEs to be incorporated as limited liability companies allows politicians to bypass Treasury or budget restrictions and evade parliamentary accountability. Complex corporate structures provide a convenient shroud for abuse. A review of the reports of the Auditor General and the Committee on Public Enterprises paints a dismal picture of systemic failures of governance, leading to gross misappropriation of public funds."

Advocata also identified several challenges when compiling its report, including the lack of a comprehensive list of all SOEs and their subsidiaries. As many SOEs are incorporated under the Companies Act, they may not be captured within usual oversight mechanisms, allowing them to become vehicles for corruption. An immediate step is to assess the size of the problem and take steps to prevent further abuse, the think tank said.

The report goes on to request that the Department of Census and Statistics (DCS) compiles a comprehensive list of all entities, their subsidiaries and sub-subsidiaries and sets up a simple framework for monthly reporting based on key performance indicators for ongoing monitoring. All entities, regardless of ownership structure, should send performance reports to the Finance Ministry, it adds.

Advocata's report also recommends that the Government should adopt the principles set out by the Commonwealth Association of Public Accounts Committees, of which Sri Lanka is a member. Firstly COPA/COPE should be chaired by an opposition MP, Cabinet ministers should not be members of COPA/COPE, appoint several non-parliamentarians to COPA/ COPE, COPA/COPE meetings must be open to the public as well as the media, and performance audits (value for money audits) or reviews should be conducted by the AG.

"The Organisation for Economic Co-operation (OECD) has published guidelines on the corporate governance of SOEs. These guidelines are an internationally-accepted standard on how governments may effectively manage their responsibilities as company owners, thus helping to make State-Owned Enterprises more competitive, efficient and transparent."

The OECD Guide comprises seven sections that detail rationales for State ownership, the State's role as an owner, State-Owned Enterprises in the marketplace, equitable treatment of shareholders and other investors, stakeholder relations and responsible business, disclosure and transparency and responsibilities of the boards of SOEs.