Even with changed party and candidate, Rajapaksas will only deliver anti-democratic rule: RW
RW says a dove will never be an eagle
Recalls difficulties faced by SL before 2015
Says Rajapaksa pledges of change only cosmetic
Believes voters must decide whether to return to Rajapaksa-era policies or take forward pro-democratic development
Spinning a fresh take on an old analogy, Prime Minister Ranil Wickremesinghe yesterday said even though the Rajapaksa family was attempting to return to power with a new party, new candidate, and new slogans, voters must understand that "a kobeyya (dove), whether it is fried or cooked in milk, is still a kobeyya, and will never be a rajaaliya (eagle)."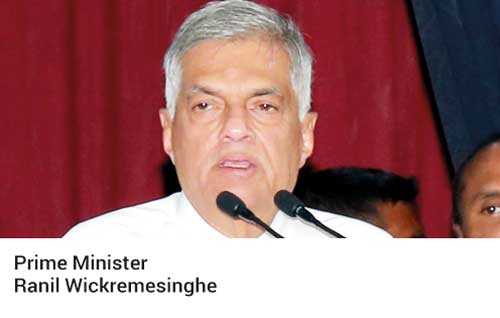 Speaking in Kurunegala, Wickremesinghe pointed out that the announcement of Gotabaya Rajapaksa as the Presidential candidate of the Sri Lanka Podujana Peramuna (SLPP) showed clearly that no matter which Rajapaksa came to power, they would follow the same repressive policies as they did during the decade when Opposition Leader Rajapaksa was in power, and therefore voters could not trust any genuine change has been embraced by the Rajapaksa brothers.

"They will come with a change of clothes and colour, but at the end of the day they will do what they did before. It is time for the public to decide whether they want the development and democratic gains made by this Government to continue, or whether they want the country to return to the dark times that existed before," Wickremesinghe said.

Wickremesinghe, addressing a group of farmers at the Kurunegala Town Hall, said he wished the new party and its campaign well, but questioned the policies of Opposition Leader Rajapaksa when he was President.

"Mahinda Rajapaksa could not truly develop this country during his ten years in power. So I wonder whether by just changing their name, they can deliver development this time. Even though the war ended, there was no reconciliation. So many problems were created by them. But in the last five years, we have moved forward with reconciliation."

The Prime Minister contended that Rajapaksa was responsible for exports dropping drastically, the loss of GSP+, and Sri Lanka being isolated by the international community. He said those were all reversed by this Government, which in addition, also improved democratic space.

"We restored the independence of the Judiciary, media freedom, and increased Budget allocations for education, healthcare, and housing. They (Rajapaksas) created a white van culture. They did not protect our democracy. They spread fear and repression. So how can we have faith that this time around they will be any different? If they could not develop the economy in ten years, how can we think they will do it now?"

He also went on to say that the Government strengthened the agriculture sector after coming into power.