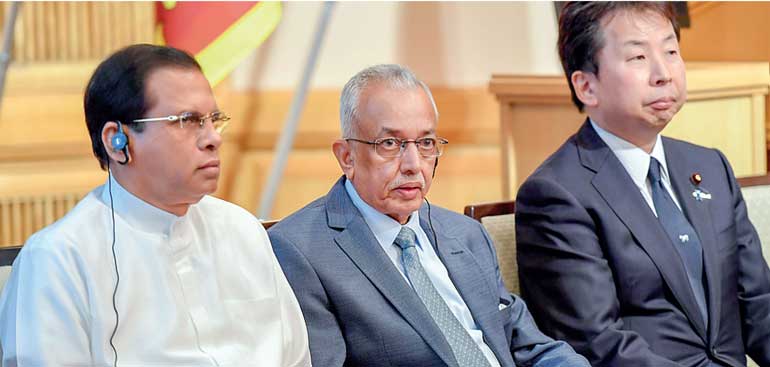 Sirisena encourages Japanese companies at investor forum
Malik outlines potential investment opportunities in Sri Lanka
President meets with JETRO and JICA on more projects
President Maithripala Sirisena yesterday addressed an investment forum to drum up stronger business ties with Japan during his ongoing visit to the country and met with government agencies to encourage more assistance for public-centric development projects.

The investment forum was held at the Imperial Hotel in Tokyo, where President Sirisena addressed Japanese businesses and called on them to increase investment in Sri Lanka.

Investors and entrepreneurs from both countries attended the forum where potential investment opportunities and joint ventures were showcased to Japanese companies.

President Sirisena had encouraged Japanese investors to make the most of the government economic drive that is focused on reforms and strong liberalisation measures, the President's office said in a statement.

Development Strategies and International Trade Minister Malik Samarawickrama, addressing the forum, said for many decades Sri Lanka had close ties with Japan in various fields and he hoped this visit of President Sirisena would pave the way to further consolidate relations between the two countries.

Japan's Parliamentary Vice-Minister of Economy, Trade and Industry, Masaki Ogushi, also participated in the forum.

Later in the day Japan External Trade Organization (JETRO) Chairman and CEO Hiroyuki Ishige met with President Sirisena.

The Chairman apprised the President of the trade and investment services of JETRO in Sri Lanka and said that they expected to further expand those activities within the country.

Japan International Cooperation Agency (JICA) President Shinichi Kitaoka also met with President Sirisena. During this meeting, the progress of the development projects being carried out in Sri Lanka with the assistance of JICA was discussed in detail.

President Sirisena said that the policy of his Government was to offer a prominent place to local industries while obtaining foreign assistance. Sirisena requested the JICA President to assist in projects that could inspire stronger public entrepreneurship.

The President also highlighted the importance of Sri Lanka's small and medium development projects, which could uplift the economic standards of the people.

During this meeting the JICA President pledged to provide assistance in developing the country's tourism field.