---
President Sirisena seeks SC opinion on how PC elections can be held without delimination report
SC to take up matter on 23 August, present opinion before end of month
SC Registrar writes to BASL calling for expert views before 21 August
President Maithripala Sirisena has sought the opinion of the Supreme Court on the process that should be followed to hold the Provincial Council elections without a delimination report, which is to be taken up on 23 August.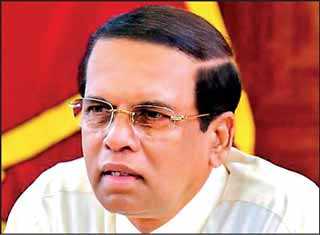 President Maithripala Sirisena


President Sirisena sought a determination from the Supreme Court on whether the Provincial Council elections can be conducted in line with the proportional representation system, which existed before the Provincial Councils (Amendment) Act which was passed in 2017. The Supreme Court is expected to deliver its opinion to the President before the end of August.

Accordingly, the Registrar of the Supreme Court requested the President of the Bar Association of Sri Lanka (BASL) to inform its members about the President's request and present any academic or expert opinion on the issue before 21 August.

In the letter sent by the Supreme Court Registrar to the Head of the Bar Association, it states that the President sought the determination of the Supreme Court under Clause 129 (1) of the Constitution. The letter also stated that the matter will be taken up for Supreme Court consideration on 23 August with a decision to be presented to the President before 30 August.
Elections Commission Chairman Mahinda Deshapriya last month said the Provincial Council elections can be held before 15 October if the Supreme Court determines that the old electoral system is valid.

The Chairman highlighted that the elections must be held before 15 October under the new system or the old electoral system as otherwise it would disrupt the Presidential elections expected to be held between 16 November and 7 December this year.

Under Section 33D of the Constitution, the President holds the power to create proper conditions for the conduct of free and fair elections on the advice of the Election Commission (EC). Based on this provision, Deshapriya said the EC in July had requested the President to seek the opinion of the Supreme Court on the issue and create a conducive environment to hold elections.

Deshapriya was confident of the capacity of the EC to hold Presidential elections soon after PC polls if it is to be held as indicated.

However, the Sri Lanka Podujana Peramuna (SLPP), which on Sunday declared former Defence Secretary Gotabaya Rajapaksa as their Presidential candidate, has repeatedly protested the move, insisting it was an effort to delay Presidential polls. SLPP Chairman Prof. G. L. Peiris has gone on record saying the country needs a Presidential poll more than a Provincial Council election, and therefore, the former should be given priority.