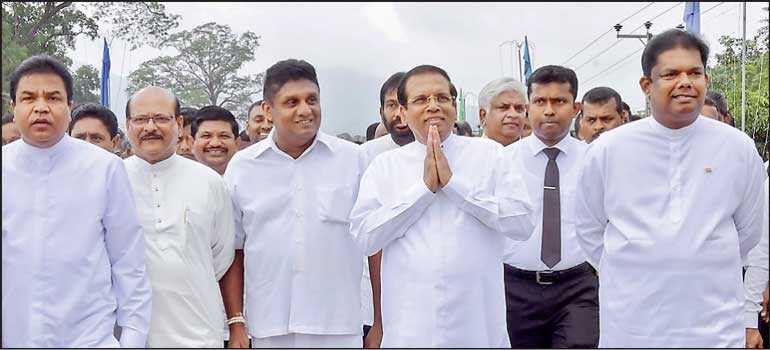 ---
Marks four years in office by vesting new green city of Laggala with public
President Maithripala Sirisena yesterday stressed that he will continue to fulfil the expectations people had placed in him when he took over duties as Head of State four years ago. Marking the fourth anniversary of assuming Office, the President said although there were successes as well as failures in his program for the country, he is committed to work towards turning the losses into victories as well as further consolidating the successes.

President Sirisena made this announcement addressing a public rally after vesting the new green city of Laggala with the public.

The President recalled that during the past four years, a number of important measures were taken to build a society free from doubts and fears, ensuring people's democracy and liberty as well to build a free media, an independent Judiciary, and an unbiased government service and to strengthen the national economy.

Emphasising that a significant sacrifice has been made over the past four years to eliminate fraud, corruption and malpractices that constitute the greatest challenge for the country's development, the President invited all to join hands to reject corruption and fraud through a strong program. President Sirisena handed over the new Laggala green city constructed to replace the old Laggala city that was submerged for the Moragahakanda-Kalu Ganga multi-purpose irrigation project to the people.

The new Laggala city was constructed near the Kalu Ganga reservoir to fulfil the needs of the families displaced by the submerging of the old city under the Moragahakanda-Kalu Ganga project. More than 3000 families from 25 Grama Sevaka divisions were removed and resettled in the new Laggala city.

The new Laggala town has been constructed with an investment of Rs. 4.5 billion.

The entire town spanning 75 acres comprises of a new police station, a Unit Management Office, a Cooperative Building Complex, a Pradeshiya Sabha building, a Divisional Secretariat, people's fair and a public market complex. The new Laggala town also has a new bus stand and a post office as well as 26 state institutions including banks and financial institutions.