President Maithripala Sirisena has given strict instructions not to close roads, causing obstruction to the general public, in order to facilitate easy and free movement of VIPs and their convoys.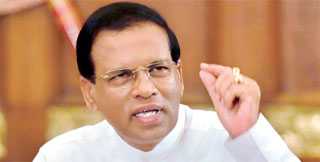 President Maithripala Sirisena
The President paid attention in this regard during the Cabinet meeting held on Tuesday, the President's media said in a short statement.

The President had given these instructions taking into consideration the difficulties faced by the public due to the closure of roads to facilitate VIP movements.

Accordingly, the relevant authorities have been informed to apprise the VIP security personnel in this regard, and to move the vehicles of the VIPs in a manner which would not obstruct the general public.