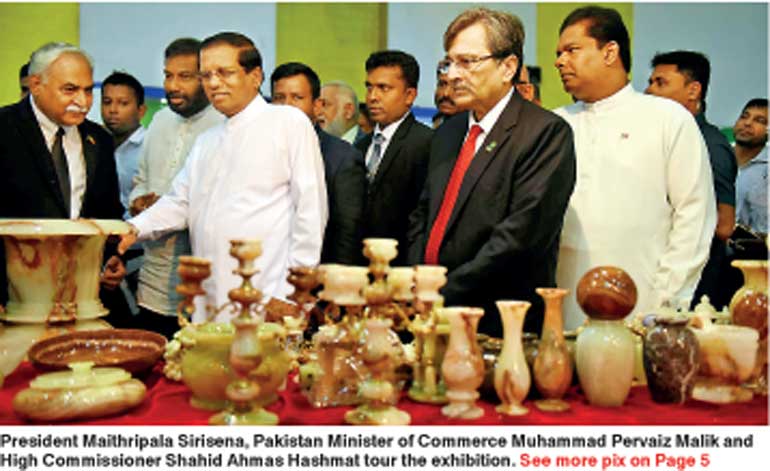 By Shannon Jayawardena

With the aim of strengthening Sri Lanka-Pakistan trade relations, the third edition of the 'Pakistan Single Country Exhibition' was declared open yesterday under the patronage of President Maithripala Sirisena and visiting Pakistan Minister of Commerce Muhammad Pervaiz Malik at the BMICH in Colombo.

The three-day exhibition themed 'Emerging Pakistan' is an initiative of Pakistan's Commerce Ministry organised by the Trade Development Authority of Pakistan in collaboration with the High Commission of Pakistan in Sri Lanka. The initiative's objects are to take back control of their national image and narrative, present the country's reality which is of a dynamic, promising and young nation to a diverse audience and finally to establish the country as a preferred destination for investment.
Pakistan Minister of Commerce Muhammad Pervaiz Malik stated: "I firmly believe that sustained efforts by our two countries will provide opportunities to create greater linkages between the business communities. Pakistan and Sri Lanka enjoy close friendly relations based on communal trade and cooperation."

He said Pakistan's economy has shown significant growth since 2013 and has recorded GDP growth of 5.3% which is the highest to be marked during the last ten years. During 2017 total trade exports amounted to $ 21.686 billion while total trade imports were $ 48.582 billion.

Industry and Commerce Minister Rishad Bathiudeen said: "This Single Country Exhibition event launched in 2016, greatly strengthens our understanding of the products Pakistan has to offer and will also bring the two countries closer. Likewise, it will open our eyes to the new opportunities and potential for our import and retail business community."

Pakistan is the second largest trading partner of Sri Lanka in the SAARC region hence the free trade agreement (FTA) which was put forward in June 2005 that enabled locals to access 206 Pakistani products including tea, rubber and coconut and Pakistan to gain duty free access to 102 national products greatly contributed towards the strengthening of the bilateral trade among the two countries.

"In 2016 our bilateral trade with Pakistan was $368 million and we believe that it will increase in the coming years. We need to focus on business to business relations and frequent exchange of delegations that will generate mutual understandings such as this exhibition," added Bathiudeen.

"This event will act as a catalyst in achieving diplomatic operations between Pakistan and Sri Lanka and is aimed at promoting and escalating the business interests between the two countries. We invite all Sri Lankan entrepreneurs to explore Pakistan as a big market for goods and services," said High Commissioner of Pakistan in Sri Lanka Shahid Ahmas Hashmat.

Several Ministers, Parliamentarians, leading business figures from trade, diplomatic and corporate circles were also present at the inauguration.

The entry-free exhibition is open for public from 10 a.m. to 8 p.m. to discover various iconic stalls showcasing unique cultural items that promote the countries goods to create the right market place for domestic and foreign businessmen from hand woven carpet stalls, Pakistani food stalls, marble made products stalls, beauty product stalls, sports item stalls and electronic item stalls are few of the wide range of 133 outlets present at the exhibition. It will also create opportunities for local investors to build trade partnerships.