CCC survey shows most companies aware of BRI and key projects
But seek stronger support from Govt. to make use of opportunities
Biz facilitation in Port City and JVs with Chinese companies highlighted
Improving skills, biz environment, arbitration and PPP selected for policy support
By Uditha Jayasinghe
Sri Lanka's private sector, despite being aware of Belt and Road Initiative (BRI) projects, requires stronger policy support to tap opportunities and practical assistance to work with Chinese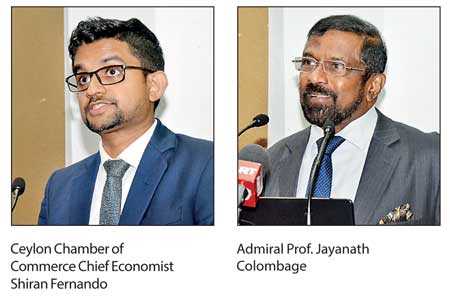 companies, an official said yesterday.

Ceylon Chamber of Commerce Chief Economist Shiran Fernando, speaking at a discussion on the BRI, noted that a survey carried out among members had shown that while 51% of those who responded had a moderate idea of the BRI and its links to Sri Lanka, and 10% had an advanced understanding, many struggled to connect their businesses to well-known projects.

"Sri Lanka, after Pakistan, received the second highest level of BRI-related funding from China during 2000 to 2017. The private sector identified the Colombo International Financial City (CIFC) or Port City, the Hambantota Port and to a lesser extend the Hambantota industrial zone as having the most use for their business interests. However, they were less knowledgeable of how to link to most of these opportunities," Fernando said.

The survey indicated that most businesses (28%) wanted the Government to facilitate private sector companies to become involved in projects. Many others wanted support to initiate businesses in the Port City, while 24% wanted Government support to joint ventures between Chinese and local companies. A lesser amount 16% wanted support to promote technology cooperation and 10% wanted backing to do business in the Hambantota Industrial Zone.

"The private sector also wanted laws to facilitate joint ventures or public private partnerships, facilitate business arbitration that would not only include China but also other countries, open up land for investors, and support higher levels of technical skills for service delivery such as logistics. The survey respondents also highlighted language skills as being a significant barrier as well," he added.

The recommendations included investing on improving local labour force skills, reducing barriers for investors to set up businesses, introduce laws to facilitate Public Private Partnerships (PPPs), Build Own Transfer (BOT) and arbitration. Survey respondents had also highlighted multiple challenges including geopolitical impacts, concerns among local companies regarding trade liberalisation, and trends of anti-globalisation sentiments.

"Sri Lanka stands to gain from being part of BRI. But BRI projects in Sri Lanka has attracted both good and bad attention. In terms of foreign policy, the President of Sri Lanka has categorically said that India for all practical purposes will be our number one concern for strategic security. He has also said Sri Lanka wishes to be a completely neutral country and maintain friendly nations with everyone. Sri Lanka does not want to be entangled in engagement between the super powers of the world in the Indian Ocean region. Moreover, Sri Lanka will retain ownership of all its national assets," Additional Secretary to the President (Foreign Relations) Admiral Professor Jayanath Colombage told the gathering.
Pix by Upul Abayasekera