Prime Minister Ranil Wickremesinghe yesterday announced that a mega development plan would be implemented with the objective of uplifting rural areas over the next two years.

Prime Minister Wickremesinghe made these remarks while participating in the opening ceremony of the newly-built Manmunai Pattu Divisional Secretariat building in Batticaloa.
Speaking at the occasion, Prime Minister Wickremesinghe said that necessary steps had been taken to develop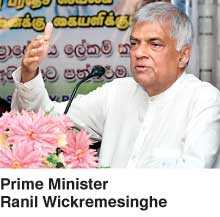 the tourism industry in the Eastern Province.

"We have already started an accelerated development program throughout the country. With the present government taking office in 2015, each Grama Niladhari division in the country was given Rs. 1 million for development programs. The Divisional Secretariat is the main hub of development work. In 2015 there were many shortcomings that existed within these Divisional Secretariats and we decided to address them."

"By now, steps have been taken to fix the shortcomings in Divisional Secretariats and provide efficient services to the people," the Premier added.


He said the Government was planning to continue the implementation of the mega development plan for rural areas in 2019 and 2020.

"The President has initiated the 'Grama Shakthi' Rural Development program according to this plan. We have also started the Gamperaliya program. In addition, several other development projects have been started focusing on developing the village," the Premier said.

The rural development programs will renovate existing and construct new reservoirs anicuts and roads, the Premier explained. He added that when these constructions were carried out, the Government hoped to give priority to local farmers associations and constructors not to large-scale contractors in order to direct the money to the village.


"In addition, we have launched other programs to develop the conflict-affected East. One step is to develop the tourism industry in this area but the main issue is the difficulty in transportation. As a solution we are planning to commence aviation services for tourists in the Eastern Province," he said.

The Prime Minister also vested with the public the new Eravur Divisional Secretariat building.

The new Manmunai Pattu and Eravur Divisional Secretariat buildings were constructed with financial allocation from the Ministry of Home Affairs. The Government has spent over Rs. 69 million to construct the new buildings consisting of fully equipped auditoriums and all the facilities needed by the staff.


Home Affairs Minister Vajira Abeywardena, Highways and Road Development State Minister A.L.A.M. Hisbulla, Eastern Province Governor Rohitha Bogollagama, Ministry of Home Affairs Secretary S.T. Kodikara and a large number of government officials including politicians participated in the events.