Opposition disrupts proceedings demanding date allocation for NCM against Bathiudeen
Speaker appeals for patience, says Party Leaders' meeting today will set date
PM says Govt. ready to face both NCMs
Rajapaksa argues setting date Speaker's responsibility
By Ashwin Hemmathagama – Our Lobby Correspondent

Lawmakers engaged in heated arguments yesterday in Parliament, unable to reach a decision on the date to take up the No-Confidence Motion against Industry and Commerce Minister Rishad Bathiudeen and the Parliamentary Select Committee appointed to look into allegations against him.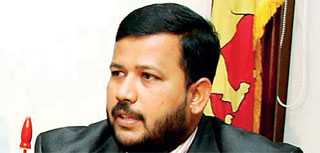 Industry and Commerce Minister Rishad Bathiudeen


Having listened to lawmakers of both sides for two hours, Speaker Karu Jayasuriya adjourned Parliament till 10.30 am today, unable to continue further with the business of the House scheduled for Wednesday, with the Opposition invading the centre aisle of the chamber to stage a protest, violating Standing Orders.
The Opposition shouted slogans, rejecting the Select Committee and the alleged delay in deciding a date to take up the No-Confidence Motion against Minister Bathiudeen for debate.

According to Standing Orders, the Speaker lacks provisions to set dates for No-Confidence Motion debates. "I accepted the No-Confidence Motion and included it in the Order Paper. The Leader of the House has not rejected the debate on the No-Confidence Motion. So there is no need to get excited. We will decide on a date when we meet at the Party Leaders' meeting on Thursday. You will have to wait 18 hours till we have the Party Leaders' Meeting tomorrow," held the Speaker.
Before the House was adjourned, Prime Minister Ranil Wickremesinghe confirmed the Government has no objection to debating both No-Confidence Motions, moved against Minister Bathiudeen and the Government respectively.

"The Government has not rejected the request for the No-Confidence Motion. It is up to the Opposition to set dates for the debate. The Select Committee of Parliament will have the necessary capacity to investigate any lawmaker or a Governor. There is no need to shy away, even I faced a No-Confidence Motion. The Government will allow both No-Confidence Motions to be taken up in Parliament," held the Prime Minister, who wanted the lawmakers to follow the Standing Orders, rather than unwantedly pressuring the Speaker to set dates for the debate.

However, Opposition Leader Mahinda Rajapaksa held the decision of the No-Confidence Motion is entirely the Speaker's decision. "Unless mistaken, even Minister Rishad Bathiudeen wants Parliament to proceed with the No-Confidence Motion. He, in fact, spoke about two of the charges listed in the No-Confidence Motion a short while ago in Parliament. The entire Opposition and some members of the ruling party want the No-Confidence Motion to move on. Now it is up to the Speaker to take a decision. It all depends on the Speaker's decision. It is better to have a two-day debate to remove doubts," held Rajapaksa.

Despite the growing tension between the Government and the Opposition benches, the House passed the Motion appointing a Select Committee to look into the terrorist attacks on Easter Sunday. This high-profile Committee is comprised of lawmakers Susantha Punchinilame, Piyasena Gamage, Prof. Ashu Marasinghe, Mujibur Rahuman, Dr. Jayampathy Wickramaratne, Dr. Harsha De Silva, Karunarathna Paranawithana, Ajith Mannapperuma, Harshana Rajakaruna, J. C. Alawathuwala, Lucky Jayawardana, Sandith Samarasinghe, Mavai S. Senathirajah, Gnanamuthu Srineshan, I. Charles Nirmalanathan, A. D. Premadasa, Wijith Wijayamuni Zoysa, Mohamadu Nazeer, M. S. Thowfeek, Piyankara Jayaratne, Kumara Welgama, Dr. V. Radhakrishnan, Dr. S. M. Mohamed Ismail, Ishak Rahuman, A. H. M. Fowzie, Dr. Nalinda Jayathissa, Sunil Handunnetti, Ajith P. Perera, Mylvaganam Thilakarajah, Lakshman Yapa Abeywardena, Anuradha Jayaratne, Nimal Lanza, C. B. Rathnayake, Anura Priyadharshana Yapa, T. B. Ekanayake, A. D. Susil Premajayantha, Vasudeva Nanayakkara, Dharmalingam Sithadthan, and Udaya Prabhath Gammanpila.

The Select Committee will investigate whether law enforcement authorities had received intelligence reports relating to such attacks, prior thereto; whether the relevant authorities took adequate measures to prevent and/or mitigate such attacks; whether there were deficiencies in the State machinery that led to the inability to prevent or mitigate the effects of such attacks; any other factors which contributed to such terrorist attacks; what action should be taken to prevent such attacks in future; and any other matters connected or incidental thereto.

Expressing his concerns over the alleged delay in taking up the No-Confidence Motion for debate, United Peoples' Freedom Alliance (UPFA) MP Dinesh Gunawardena held the No-Confidence Motion is different from any other ordinary matter. "We have handed in a No-Confidence Motion against Minister Bathiudeen with over 60 signatures obtained from lawmakers. Many other lawmakers have expressed willingness to support us. This is not an ordinary No-Confidence Motion, but it is about the gloomiest devastation that took place in the recent past. Your Select Committee will move a ready-made report after two weeks," he said.

Proposing that Minister Bathiudeen should resign before the debate, MP Gunawardene held that extremism is rejected by the majority of Muslims in Sri Lanka. "The Minister can extend resignation before the debate commences. By extending resignation, he accepts the charges on the No-Confidence Motion," he added.

"We have gone through the contents of this Motion. It contained allegations. We found from the Inspector General of Police that there is no base for any of these charges. The reason we requested a Select Committee is to investigate the matter with the evidence the Opposition claims to have. We have allowed many No-Confidence Motions in this Parliament in the past. But we are not willing to accept this Motion. So, produce the evidence you have to prove these charges," clarified Leader of the House Lakshman Kiriella.

Meanwhile, Minister Bathiudeen, claiming his innocence over a few charges mentioned in the No-Confidence Motion, said: "I have no Moulawis in my Ministry appointed as Advisor. So, this is a false charge. I have two Advisors – Roy Jayasinghe and Dr. Aziz. Secondly, this No-Confidence Motion held that my Coordinating Secretary was taken into custody. I reject that charge too. It is also wrong to say my brother was arrested. I got a letter from the Inspector General of Police confirming such an incident did not take place. Media mafia spreads these fake news. I have never influenced the Army Commander. I only spoke to him to clarify the arrest of some Muslim boys. The parents requested me to find their children arrested by an unknown group of people."

Explaining the necessity for a Select Committee, United National Party MP Dr. Jayampathi Wickramaratne held he took the lead in proposing a Select Committee. "Some of these charges in this No-Confidence Motion are serious. If these are true, Minister Bathiudeen should be in custody. But we need evidence to decide. The Select Committee can come out with an interim report within two weeks, highlighting the facts standing against Minister Bathiudeen. We don't mind voting against him provided evidence is available," he said.

Regardless of whether the party decides to skip supporting the No-Confidence Motion, State Minister of National Policies and Economic Affairs Niroshan Perera, who told Parliament that he will vote in favour of the No-Confidence Motion, held that he will continue to stand independent when it comes to the No-Confidence Motion. "There is no change in my decision. We should all join hands to prevent extremism spreading in Sri Lanka. These charges are serious," he said. (AH)