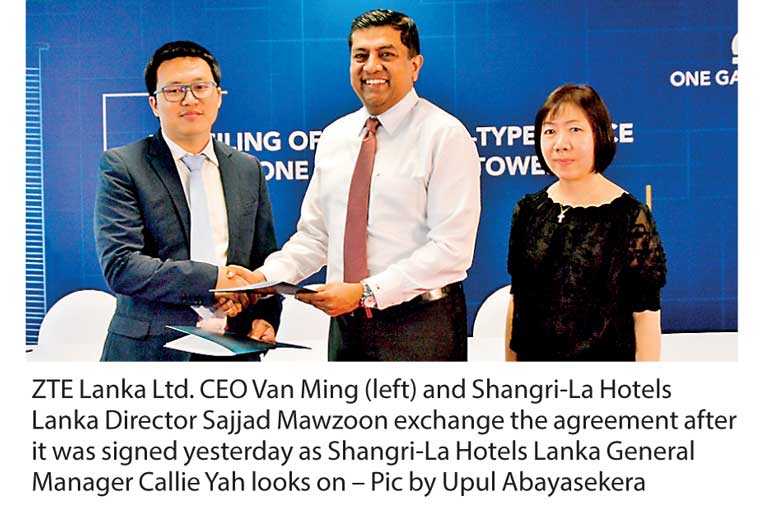 Prototypes of office suite unveiled
The prestigious internationally developed and managed mixed-use development project by the Shangri-La Group, One Galle Face, continued its scheduled progress with the topping out ceremony of One Galle Face Tower held yesterday.
The exclusive One Galle Face Tower, which is nearing completion, is scheduled to begin operations during the second quarter of 2019.

As the One Galle Face Tower nears completion, the prime and upscale workspace is available for rent and prospective tenants are now able to view the prototype of the office suite. With the signing of maiden tenancy agreements with ZTE Lanka Ltd. and Softlogic Life Insurance Plc, the One Galle Face Tower is expected to be Colombo's most sought after and premier business hub.

"It brings us infinite pleasure to reach this point, where we are able to unveil the prototype of office suites at the One Galle Face Tower. We have been working tirelessly to ensure that all needs will be met, and that the One Galle Face Tower will provide the necessary facilities to uplift and redefine business, corporate and lifestyle spaces in Colombo. In keeping with international protocols, we are dedicated to ensuring luxury, convenience and a seamless work experience to our tenants," said Shangri-La Hotels Lanka Ltd. General Manager Callie Yah.

The One Galle Face development is fourfold comprising the One Galle Face Mall, One Galle Face Tower, The Residences at One Galle Face and the Shangri-La Hotel, Colombo. As a premier lifestyle destination, One Galle Face is a fully-integrated development venture that incorporates extensive retail, dining and 5-star hotel amenities to provide all its guests, tenants and visitors with an all-inclusive experience comprising convenience, connectivity and luxury.

One Galle Face Tower offers 540,000 sq.ft of premium office space that spans over 32 levels combining sophisticated design and facilities that are on par with global trends, in the heart of Colombo's commercial district.

The One Galle Face Tower is centrally located with absolute ease of access, near main public transport hubs, key government institutions, hospitals, banks and hotels and offers unparalleled panoramic views of the Indian Ocean, Colombo City and Beira Lake with Colombo's urban recreational hot spot, the Galle Face Green.

Utilising floor to ceiling glass perimeter windows, the One Galle Face Tower will be awash with natural light from its spectacular surroundings. The contemporary and sophisticated workspaces offer an efficient 17,450 sq.ft on each level with virtually column-free rectangular floor space and core design allowing tenants a well-organised, modern and flexible office layout. Interconnectivity between floors is facilitated through thoughtfully placed knockout panels.

One Galle Face Tower is set to provide a seamless workspace, providing fiber-optic connectivity, 100% backup power, a fully-integrated Building Management System, high-speed lifts and parking with dedicated VIP drop off points. The Tower also meets all international fire safety and security regulations.

The One Galle Face Tower has also taken efforts to increase the sustainability of its core design concept by utilising double-glazed, low e-coated perimeter window glass that provides natural light while cutting out excessive solar radiation and thus saving energy. The complex is targeting to achieve the 'Singapore Green Mark – Gold Standard' by means of improving air quality, energy efficiency and supporting conservation efforts.