Chandana L. Aluthgama has been appointed as the Chief Executive Officer of Sri Lanka Insurance Corporation Ltd. with effect from 3 May.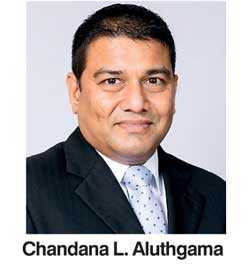 Aluthgama is a renowned professional in the corporate world with over 25 years of experience across diverse facets in the insurance business.
During his illustrious career, he has held many senior roles in organisations such as Eagle insurance PLC, HNB Assurance PLC, etc. Further, he has held many leadership positions outside his insurance career in both local and international associations.

Aluthgama is a visiting lecturer at the Postgraduate Unit of the University of Colombo – Management & Finance Faculty. He holds a Master's degree in Business Administration from the University of Colombo, Bachelor of Commerce degree from the University of Kelaniya and he is a fellow of the Chartered Management Institute of UK (FCMI).

He has presented research papers at local and international conferences on insurance and bancassurance and has undergone extensive training both locally and overseas, including at General Insurance AG, Vienna, Austria.

Prior to taking up this appointment Aluthgama functioned as the Chief Business Officer and the Principal Officer of HNB General Insurance Ltd.

Sri Lanka Insurance, with over five decades of service to the nation, is the nation's strongest and largest insurer with an asset base of Rs. 190 billion and a life fund of Rs. 98.5 billion, the largest in the industry.

Sri Lanka Insurance is the first insurance company to have been assigned a global rating for financial stability AA+ (lka) from Fitch Ratings, London which is an assurance of the company's long-term financial sustainability. The company has also been awarded ISO 9001:2008 certification for correct governing and operational procedures in line with accepted global standards.