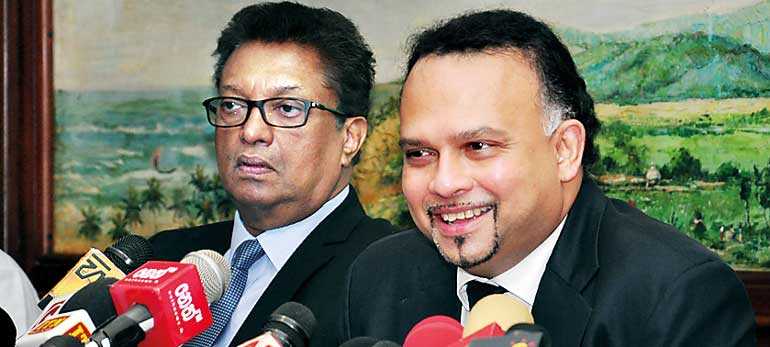 Plantation Industries Minister Navin Dissanayake with Tea Board Chairman Lucille Wijewardena at the media briefing yesterday - Pic by Sameera Wijesinghe
---
Govt. to give Rs. 50 daily allowance to estate workers for a year, Tea Board to loan Rs. 1.1 billion to finance the move
Cabinet paper presented to set up a fund for infilling and replanting Global Marketing campaign to include KOL in number of countries, set to kick off in Japan
Baseline to be introduced to prevent MCPA chemical being used, stern action against violators of standards
Tea estate workers will receive Rs. 50 allowance from the Government in addition to the recent price hike, a move set to be announced with this year's budget, Plantation Industries Minister Navin Dissanayake said yesterday.

The Tea Board is to loan the Government Rs. 1.1 billion needed to finance the move, which will be recovered later. The decision was taken following discussions with the Prime Minister held yesterday, Dissanayake said.

"The payments will start after 2019 budget is presented, this will be given as a budget allowance, and is limited for a year," the Minister said speaking to journalists at the Tea Board.

The decision taken yesterday to appease trade union leaders supporting the Government who have been calling for a better basic wage which was increased to Rs. 750 last month following months of negotiations between trade unions and Regional Plantation Companies.

"This is a decision outside of the collective agreement which will remain as it is," he said stressing that the move was a political one, after representations were made by Cabinet Ministers Mano Ganesan, Palany Digambaram and Non-Cabinet Minister Velusami Radhakrishnan, who also played a significant role during the political crisis in October last year.

In justifying the move, the Minister said that the Ministers who were also trade union leaders were not included in the recent wage discussions, which was limited to three main trade unions which have been signatories to the collective agreement for the past 20 years.

In a bid to reach tea production target of 300 million kilograms a year, the Tea Board is set to launch a new program setting up a fund to finance infilling and replanting in the plantations. A new levy of Rs. 2.50 will be charged per kg of tea exports to set up the fund, the Minister said.

"I have already submitted the Cabinet Paper on the matter and waiting approval to launch the program," he said.

The authorities aim to replant at least 400 hectares out of 5000 hectares which need replanting. According to Tea Board Chairman Lucile Wijewardana, the fund is being set up to encourage RPCs to replant.

"RPCs don't like replanting for two reasons. One is that they don't want to remove a bush that is being plucked as they are losing revenue as tea prices are favourable now, the second is the cost involved in replanting," he explained.

The Tea Board is also considering different schemes to encourage the RPCs to replant and carry out infilling in their estates.

"We are considering paying an allowance to those who replant, to compensate for the loss of revenue," he told Daily FT.

"What is needed most is to encourage infilling," he said.

The Tea Board is also set to launch the Global Marketing Campaign in Japan. The campaign is set to include promotions by key opinion Leaders, Wijewardana said.

The Rs. 4.5 billion Ceylon Tea promotion campaign, will be launched first in three countries, Japan, Russia and China, with varying degrees of KOL elements in each country.

"With the KOL campaign we are looking at inviting the selected personalities to Sri Lanka for them to have that experience and talk about it in their blogs and other mediums," he said, noting that promotional campaigns in some countries will be completely focused on KOL campaigns.

"For instance, Japan market may only need KOL," he said. However, the details for the KOL campaign are to be worked out.

Along with the promotional campaign, new measures are being taken to ensure quality is maintained in all tea exports. A new baseline will be introduced to ensure that chemical components such as weedicide MCPA are not present in tea exports. The base line which is to be presented to the Tea Research Institute board (TRI) will be also enable authorities to take legal action against those who violate the standards.

"All this time we were not able to take legal action, but once we have this baseline we will be able to," Dissanayake said, adding that he is ready to take stern action to protect the industry.

Due to the glyphosate ban, plantation companies resorted to other weedicides, which led to an increased percentage of MCPA being found in Ceylon Tea. The move saw a near-ban of tea exports to Japan, one of Sri Lanka's largest tea markets which saw a year-on-year growth of 15% before the glyphosate ban became effective. Due to lobbying by the industry the ban has been eased to allow glyphosate usage only in tea and rubber plantations.