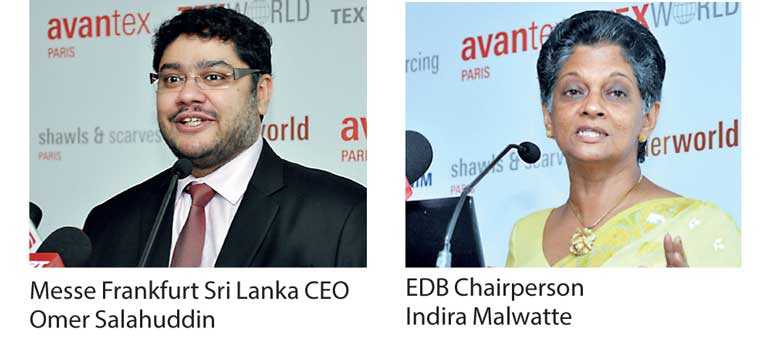 Announces plans to open office in Colombo next month
Plans to hold trend seminar in Colombo
EDB to sponsor 4 designers for Hong Kong Fashion Week, focus on homegrown designers
First 10 applicants will receive market access grants on 17 August in Kurunegala
EDB confident of achieving $ 17.2 b in export earnings by end-2018
By Charumini de Silva

Messe Frankfurt, the world's largest trade show organiser, yesterday announced plans to open a sales office in Colombo in December, while reinforcing its commitment to make Sri Lanka a regional hub in South Asia given its strong growth potential.

The bullish trade fair giant also announced plans to bring down its Board Member Stephan Kurzawski for a two-day visit to Sri Lanka next month to illustrate Colombo's great connectivity and its growing economic potential.

Pix by Lasantha Kumara
"We are always looking for new markets and new ventures. Messe Frankfurt was interested in having a local agent in Sri Lanka. By the end of the year we will have a local outbound sales office in Colombo. We have already set up the office and started rearranging. We are hiring a few foreign and local employees," Messe Frankfurt Sri Lanka's Omer Salalhuddin told journalists in Colombo.

With the visit of its Board Member Kurzawski next month, he expressed confidence in Colombo's potential to become a regional hub.

"After a year's effort of convincing we are getting down the board member of Messe to visit Sri Lanka. During his two-day visit we hope to show him Colombo's infrastructure and how well it is connected to the growing markets. Maybe in the future we can also convince them to make Sri Lanka a regional hub," he added.

He said that they were also planning to hold a trend seminar in Colombo, which would provide a great platform for local companies to understand from Messe Frankfurt trend designers what European brands were looking for.

In terms of the future plans Salalhuddin said that they were keen on educating SME manufacturers engaged in handicraft and apparel on what European markets were expecting from their products and to bring down rational designers from various countries on the latest trends to ensure that this segment was well aware of up-to-date developments in the marketplace.

"Apparel sourcing seeks buyers from all over the world and it is a one-stop platform for Sri Lanka to reach the entire world. The advantage Sri Lanka has is that it is focused on trends and colours to be a strong player in the worldwide souring hub," he pointed out.

He also called on businesses to participate in multiple trade fairs to better understand consumer demands, trends, techniques, products, competitors and the marketplace.

Salalhuddin said Messe Frankfurt France President Michael Scherpe was quite impressed with the quality of work of Sri Lanka when he met with Export Development Board (EDB) officials in Colombo last year.

"I'm impressed by the quality of products and the professionalism of Sri Lankan companies to present properly. Messe Frankfurt managed to organise a Sri Lankan fashion show free of cost at Textworld/Apparel Sourcing in Paris. This gave the opportunity for the designers and trendsetters to showcase their talent and find new markets," he added.

With 800 years of experience, Messe Frankfurt is today one of the global leaders in the trade fair industry. It's portfolio of over 150 fairs generated sales of about € 661 million and more than € 271 million in sales was generated outside Germany.

"We have 30 subsidiaries with more than 60 sales partners from 188 countries and Fairs and Exhibition Service has been the official representative for Sri Lanka for over 20 years. We cover the fields of textile, automotive, consumer goods, music, security and technical shows. Sri Lankan companies participate in Paperworld in Frankfurt and Dubai; Ambiente (Frankfurt) which is the world's largest consumer fair, Intersec in Dubai and Automechanika fairs in Dubai, Frankfurt and Istanbul," he stated.

EDB Chairperson Indira Malwatte commended Messe Frankfurt's assistance in creating linkages for Sri Lankan companies to enter new markets and display their talent and products with confidence.

She said the apparel sector was something the country could be strong on cause Sri Lanka was known for its apparel.

"For the first time, we had four designers displaying their products on the catwalk of Paris and we were extremely proud because we were able to organise that for Sri Lanka. I heard that they're extending it for this year too. I am very grateful to you for negotiating on behalf of Sri Lanka because they gave that opportunity to us for free, otherwise it would have cost us a mint. We got them to display the core competencies of Sri Lanka such as focusing on batik and incorporating it into modern gear and wear. Then we also had swimwear and summer clothes," she added.

Further, she noted that Messe Frankfurt's advice to Sri Lanka was to be able to identify the correct product that should be displayed on the catwalks of Paris.

Malwatte said that they were also going to sponsor four designers to Hong Kong Fashion Week to encourage homegrown designers to display internationally.

Noting that the Government had announced in the budget proposals a grant for market access programs, where companies that wanted to participate on their own or as a collective at fairs to meet buyers were in a position to get funding from the EDB or some other entity.

"There should be commitment on the part of the company to be eligible for the grant and we meet up to 50% and up to Rs. 5 million in this grant. The first grants will be given on 17 August in Kurunegala for 10 people who have applied for the grant," she asserted.

Expressing confidence that Sri Lanka could achieve $ 25 billion in export earnings, she called on all stakeholders to make exports everyone's business.

"We have a goal of achieving $ 25 billion in 2020 and it is achievable because last year we had achieved $ 15.2 billion and $ 17.2 billion is to be achieved this year. If you look at the first half of the export statistics, we have achieved 60% of our goals. Usually, exports are much better in the second half of the year because of the orders that come in time for the spring and summer. So we're confident we're able to achieve this year's target. The exporters are highly motivated. I urge all stakeholders to consider exports as an important aspect of uplifting our economy and to make it everyone's business without leaving it to the EDB," Malwatte said.