Move to put IMF program back on track
Finance Minister Mangala Samaraweera will leave for Washington on Friday to get the $1.5 billion International Monetary Fund (IMF) External Fund Facility (EFF) back on track.

He will be meeting IMF Managing Director Christine Lagarde, Deputy Managing Director Mitsuhiro Furusawa, Asia Pacific Department Director Chanyong Rhee, Teal Leader Manuel Goretti, and other members of the IMF Sri Lanka Team, the Finance Ministry said in a statement.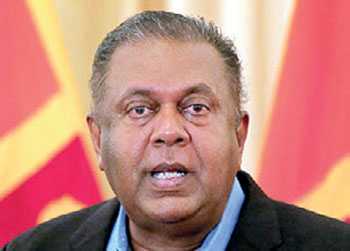 Finance Minister Mangala Samaraweera
"Minister Samaraweera is expected to signal the Government's intention to continue with the IMF reform program. A key objective will be to negotiate the trajectory of continued fiscal consolidation while accommodating policies to support growth and strengthen social safety nets," the Finance Ministry said.

The Finance Minister's delegation to the IMF will include Central Bank Governor Dr. Indrajit Coomaraswamy, Treasury Secretary Dr. R.H.S. Samaratunga and other key officials of the Central Bank and the Treasury.
Governor Dr. Coomaraswamy last week said the Government has the option of extending the IMF program by a year, describing it as a positive option for Sri Lanka as it looks to fund nearly $3 billion in debt repayments this year.

The Governor also said the Government had already expressed interest in resuming the IMF program and the Central Bank has already begun discussions towards this end. He also noted that the $ 1.5 billion Extended Fund Facility (EFF) program, which is expected to conclude in June this year, could be enhanced if the Government wishes to do so. However, the first step would be to review the current state of the program before making any decision.

"We have already had three conversations with the IMF and the Minister will also engage with them. The program will be reviewed, but I suspect the broad parameters will be the same but there may be some leeway to negotiate. There is also provision for the EFF to be extended by a year, so that is something the Government could negotiate if it wants to."

Not only could the program be extended, but the funding can be enhanced as well, the official said. The Government could make a decision to request, then on the basis of the request, negotiate and agree to what conditions and goals both agree on. "Both sides will have to negotiate but I think there is a commitment from both sides to continue the program."

An extended program could support the monetary authority to raise funds from capital markets at a lower interest rate.