Several MPs called on the Speaker of Parliament Karu Jayasuriya yesterday to take action to make changes to the official Parliament website, saying it still held that Mahinda Rajapaksa was Prime Minister since 26 October to date, despite the House having passed two no confidence motions against him.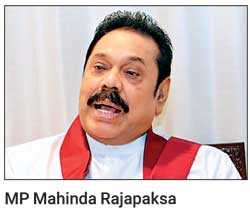 UNP MP S. M. Marikkar whipped out his phone to read from the official Parliament site www.parliament.lk, which even last afternoon held that Rajapaksa was Prime Minister.

MPs, including Marikkar and Karunaratne Paranavithana, also repeatedly called on the Speaker to ensure that the State broadcasters telecast parliamentary proceedings.

Speaker Jayasuriya responded that he had already held discussions with the Secretary General of Parliament since SLBC which had an agreement with Parliament to provide live radio coverage of parliamentary sittings for a payment by the House.

"This is a breach of privilege since Parliament pays for this coverage. We are taking it up," the Speaker said.

Meanwhile, MPs also urged Speaker Jayasuriya to act against private and State media institutions that continue to refer to Mahinda Rajapaksa as Prime Minister.

"Despite your ruling on 15 November that there was no Government and no Cabinet of Ministers, newspapers and other media continue to describe a MP as Prime Minister," said TNA MP M. A. Sumanthiran.

Referring to Parliament still bestowing the title on Rajapaksa as well, he said: "If Parliament does not respect what Parliament has done, how can we expect others to fall in line? Put the website right."

Sumanthiran also urged the Speaker to instruct the private and State media accordingly because their coverage amounted to a breach of parliamentary privilege.